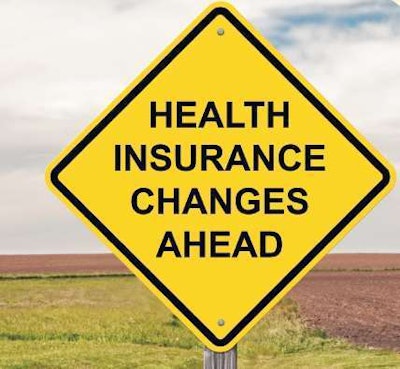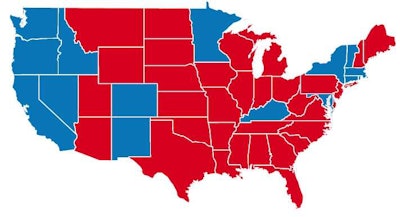 The online health-insurance exchanges set up under the Affordable Care Act last year are back under an open enrollment period that will last through February 15. To begin coverage January 1, enrollees are encouraged to apply for a health plan through the exchanges by December 15.
For those who purchased a plan last year through the federal exchange at HealthCare.gov or one of the state exchanges, now is also the time to revise coverages or change plans, if desired. The same date of Dec. 15 applies for those wishing changes to be effective at the first of the year. HealthCare.gov offers the pdf guide at this link to owners of plans from last year.
Changes in the state-by-state map of exchanges shown above and the list below, reflecting the 2013 distribution of state (blue)/federal (red)-run programs, include two states, Oregon and Nevada, whose tours through administering their own state exchanges are now over. Residents of Oregon and Nevada will use HealthCare.gov to browse 2015 plans.
Conversely, Idaho has newly set up the Your Health Idaho exchange, already reflected in the map and list and available at this link and via (855) 944-3246.
For members of the Owner-Operator Independent Drivers Association, the organization has established its private OOIDA Members Healthcare Exchange here and is open to assist members with plan selection through the enrollment period.
The National Association of Independent Truckers, partnering with Connected Health, likewise, hosts a new Truckers Insurance Exchange geared toward owner-operators and independent contractors, notably able to help in navigation of the public exchanges, says Marc Ballard, program leader on the insurance side. Phone for the program: 877-270-8417.
For the coming tax year, penalties for not carrying health insurance are roughly double those in effect for 2014, the first year the ACA's individual mandate was in effect. The 2015 penalty is the greater of these two options:
**2 percent of your annual household income. (Only the amount of income above the tax filing threshold, about $10,000 for an individual, is used to calculate the penalty.) The maximum penalty is the national average premium for a bronze plan.
**$325 per person for the year ($162.50 per child under 18). The maximum penalty per family using this method is $975.
Read more about the Affordable Care Act in this guide to navigating the exchanges from the last enrollment period.