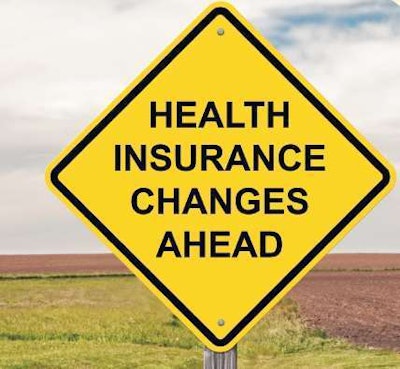 With the open enrollment period beginning in new state and federal health insurance exchanges Oct. 1, owner-operators got their first looks at new options for insurance.
For North Carolina independent Bryan Spoon, 41, and his girlfriend and business partner, Anna Lowdermilk – who works the load boards and trusted brokers – it represented a chance to get newly insured. "I bought my first truck in 2004, and in 2007, we filed for our own authority," says Spoon, who gets a cash discount from his hometown doctor in Grandy, N.C. "I can go to urgent care if I get injured," he says.
Spoon thought he could improve his health care situation, so with the opening of the exchanges, he started shopping for coverage early. "I worry about falling off a trailer and breaking my leg," says Spoon, who pulls a Great Dane flatbed with his 2009 Volvo 780. He says in most situations, a policy with a somewhat high deductible would meet his needs. "If I'm someplace far from home and I have to use emergency room service, I can work out a $5,000 bill with a hospital," he says. But emergency surgery or a lengthy recuperative hospital stay "could break me."
While owner-operators covered by their spouses' employer plans may see little change other than in premium rates or specifications on what is covered, like so many others shopping on the exchanges, Spoon hadn't gotten far in enrolling by mid-October, but his thoughts reflect the case for so many uninsured people. It's also part of the dynamic that mandatory insurance is designed to combat. If everyone has insurance, the thinking goes, and doctors and hospitals get paid for all services, care costs may eventually become more standardized and fall. In the near term, getting the millions currently uninsured into the exchanges and enrolled is proving a daunting task.
Attempts by Overdrive to access the federal exchange – the primary application point for residents of the 34 states that have no state-run exchange – between the first and third weeks of October never got past creating a user account. Spoon went further, getting stuck in the identity-verification stage of the tax-credit/subsidy application, the first step of the application process on the federal exchange and necessary to begin shopping for specific policies.
Creating an account for Spoon on the healthcare.gov website took four or five days, said Lowdermilk, who also plans to apply individually for coverage for herself and a son. "We have been trying to get a quote on the insurance since the first day and still haven't been able to get one," she said October 15.
PODCASTING THE ACA | Healthy Trucking Association of America Director of Insurance Tom Smith told Overdrive Oct. 31 that, from what he's hearing, the federal government should have the healthcare.gov website and overall exchange architecture in more usable form within two to four weeks. You can hear more of our talk with Smith and Marc Ballard, who has worked closely with the HTAA on their efforts around the Affordable Care Act, in the special feature podcast below.
Fred Adams of the HSA for America insurance brokerage says one of the federal system's primary problems is a lack of connection between the online application system and the insurers. Furthermore, the identity verification process has seen more than its fair share of glitches.
If you're a current policyholder and your plan was purchased on the individual market prior to March 2010, your current policy will be good through its 2014 renewal date if not cancelled by the insurer, but ultimately you will have to move to an ACA-qualified plan. To forestall some of the associated headaches, Adams recommends talking with your insurer about potentially moving your anniversary date to December of this year to avoid a potential gap in coverage when the grandfathered policy runs out next year.
Holly McCombs, wife of Maryland-based owner-operator David McCombs, is looking at such a situation. They pay $1,053 monthly for a plan they've had since the mid-1980s, covering them and two children. A comparable plan on the state-run exchange "would run about $400 more than we are paying already," Holly McCombs says. "I'm going to keep what I have, but I hear rumors the insurance companies will jack up grandfathered-plan rates big-time. They won't be getting new healthy people in those plans."
She works as an independent contractor herself, with Campbell Insurance Services in Olney, Md. Since her husband leased on with a new company two years ago – hauling cars on an open trailer – he's done much better financially. "Two years ago, we would've qualified for subsidies" to reduce premiums with an exchange purchase, she says – not today.
Fortunately, at least, shopping plans may well be easier in Maryland, one of the 16 state-run exchanges (in addition to the District of Columbia). These saw much more progress through October than the federal exchange.