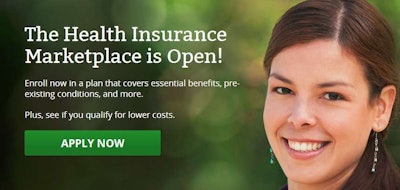 Michigan resident Michael Wright was looking to newly re-mint his owner-operator business after a year driving a company truck with a partner working the North Dakota oil and gas fields hauling a tanker this fall. When I talked to him a day after the Affordable Care Act's health-insurance exchanges opened, with no shortage of reported problems, Wright was in the process of purchasing a 2005 Western Star 4900 series with a 68-inch sleeper, powered by a 490-hp Detroit and a 13 speed transmission.
He was fairly certain everything would go forward as expected re: the loan for purchase, and following that, he and his business partner planned to run the rig, hauling fracking fluids in a tanker owned by the company he'll be contracting with there. What he wasn't certain about at that time: whether or not the 48-year-old's health insurance would be available at the same rate – about $400 a month out of pocket, secured via his wife's membership in a group plan offered by her employer, which pays for 50 percent of the premium for an overall cost of $800 or so. "She's been there 25 years," says Wright. "We've been informed it's going up 130-plus percent this month. If that's true, it's going to be painful."
In such a scenario, the couple would be looking at monthly out-of-pocket premium expenses well over $900 monthly to continue to participate in the company plan – Wright has been exploring other options. He says he searched plans available for himself using this calculator at a government site in Michigan. Inputting the basics of his and his wife's ages, place of residence and income in that calculator yields a range of "gold" level plans, comparable to what the Wrights have now with 80/20 coinsurance, yields a $721-$1,634 range in potential monthly premiums. Wright, however, is a smoker – the Michigan calculator estimates an 18 percent surcharge for smokers, but the ACA itself allows as much as a 50 percent surcharge. What the surcharge would be depends on the insurer and plan, ultimately.
That $721-$1,634 range boosted by 18 percent: $851-$1,928
By 50 percent: $1,082-$2,451
Under that calculation, Wright's likely better off sticking with his wife's company plan even with increases that come, such as they may be, though given overall costs, if the lower half of the estimated range is in fact equivalent to what his wife's employer is offering, it's tempting to see an incentive for employers to flee from company-provided group coverage. Keep in mind, for those with access to employer-provided coverage, there's unlikely to be any subsidy/tax credit available to directly reduce premiums. And besides, the Wrights make too much yearly to qualify for subsidized premium reduction, likely to be the case for most in this audience.
Other calculators get into more exact calculations, such as that at the site of the Kaiser Family Foundation's, endorsed by HealthCare.gov, the ACA exchanges' official hub. However, that calculator only shows estimates for Silver (70/30 coinsurance) and Bronze (60/40) level plans. Inputting Wright's information there yields an estimate of $8,801 in annual premiums for a silver-level plan, or $734 per month, $6,595 for a Bronze plan, or $549 a month. Coverage levels with both plans are not equal to what Wright has currently, however. Assuming a more costly Gold level plan, he's likely better off sticking with is wife's employer-provided coverage from the premium pricing perspective.
What's your case look like? Have you seen success or had trouble attempting to enroll via the public exchanges, which some tech experts are reportedly considering calling the "highest-profile and most complete failure on a major web launch" ever, given widespread technical problems… Tell us here or email me at tdills@randallreilly.com.