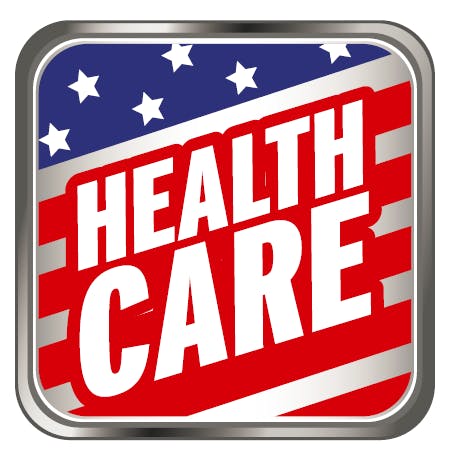 Some health-care industry watchers like Avik Roy at Forbes.com see a curious turn coming as the Patient Protection and Affordable Care Act — yeah, that's Obamacare — goes fully into effect in 2014. Some businesses employing more than 50 employees, Roy wrote just two days back, will be ultimately incentivized, given the way the program works, to reduce benefits offered to employees with so-called "skinny," cheaper health-care plans that could ultimately send unsatisfied workers on to the state- and federally-run health insurance exchanges to purchase subsidized insurance.
You can read Roy's full argument here, part of which rests on a dynamic that was described during Overdrive sister magazine CCJ's recent Symposium in Birmingham by AHM Financial Group benefits group manager Tom Goedde: "Unfortunately, I think we're going to find that the Affordable Care Act, as it is called, is not that…. It is going to add a lot more to business costs."
Insurance-quality dilution, however, may not be the eventual reality at most businesses. Goedde cited surveys that indicated 90 percent of businesses participating expect to retain their current health plan coverage to retain employees. Of the 10 percent that didn't, a large majority of them cited expected higher costs.
The new system incentivizes "skinny" coverage offerings, Roy writes, in that  paying the per-employee penalties after individuals there opt for exchange-purchased and subsidized coverage could well mean considerably less money spent by the employer, given the cost of administering quality group plans.
For small fleets (those with fewer than 50 employees do not fall under the Obamacare employer mandate to provide health insurance) and independent and leased owner-operators, the state exchanges (for individuals) and future small-business exchanges could be places to obtain competitively priced coverage, though it all remains to be seen. States like Vermont and California that have set up their exchanges fairly early and published rate information have not seen any big "rate shock," as Lisa Aliferis wrote yesterday in reporting on a special online project for California-based KQED radio. "Covered California says that individuals will pay an average premium of $321 per month for a 'silver' plan [a 70/30 coinsurance-type plan, generally; run through the Kaiser Family Foundation's calculator for more on Bronze, Silver and Gold plan levels]… Many people will be eligible for subsidies to reduce that cost further." Small fleet-employed drivers not offered health coverage by their employers as well as both independent and leased owner-operators would fall under those eligible for such subsidies.
If you don't have insurance and don't want it — I won't advise such directly — individual penalties will run along these lines (find more about them in this story from U.S. News.com), growing more and more onerous over the next few years:
2014: $95 per adult, $47.50 per child, annually — family maximum of $285 or 1 percent of family income, whichever is greater
2015: $325/adult, $162.50/child — family maximum of $975 or 2 percent of family income, whichever is greater
2016: $695/adult, $347.50/child — family maximum of $2,085 or 2.5 percent of family income, whichever is greater
You can avoid a penalty, generally, if subsidized premiums on the exchanges will cost you more than 8 percent of household income.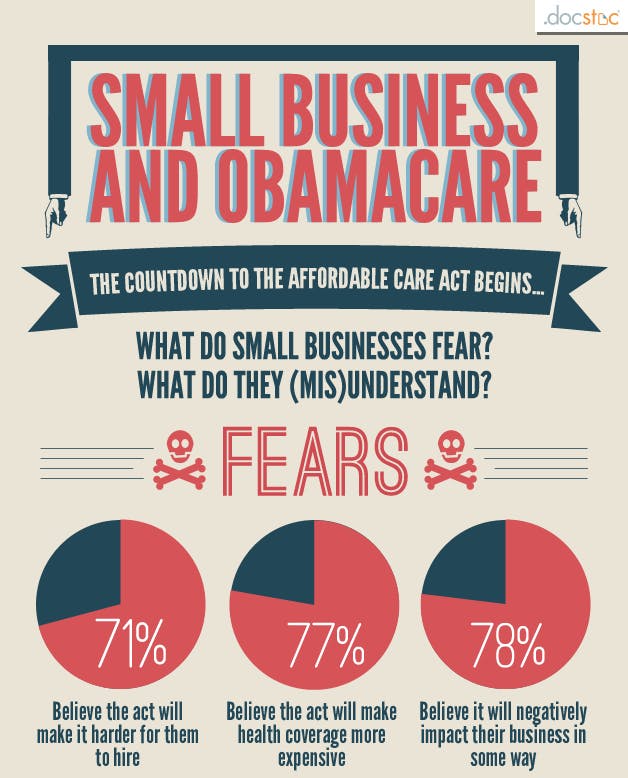 Given the scope of the coming change and the sometimes heated politics involved in all the commentary around it, it's no surprise a lot of people are still confused by the whole thing. Here's an infographic put together by the folks at DocStoc.com (right) based on surveys of small business owners about the Affordable Care Act. Among the somewhat surprising highlights: A lot of small businesses still believe that the Act requires them to provide employee health insurance, while that requirement only exists for those with 50 or more employees. In any case, click through image here for the full results.
That said, I'll no doubt be looking at how this all shapes up as full implementation gets closer.
Any thoughts on your own health-insurance situation and what you'll be doing come next year, feel free to share in the comments, any lingering questions as well.