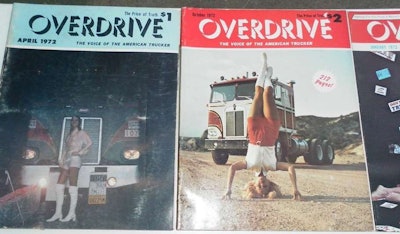 What would the January and March 1974 shutdown issues of Overdrive be worth today? That's the question longtime reader Todd Kendall put to us under a thread on Facebook that followed similar queries by Johnette Bowen-Worrell about her father's collection, recently saved from the racks of an estate sale. We put her question to readers — who knows, she may have found a buyer by now (speak up if you're reading this). We're just curious, not that we're in the business of selling off old copies of the magazine. Our archives have, at most, two total of a lot of those old issues in total.
Bowen-Worrell's got the entire year 1971 — and a lot from 1972 and '73, she says, and hasn't been able to go through all of her truck-driving father's boxes as yet.
Kendall says he's had a big collection of them since he was a child and was in the March 1975 issue. Any collectors in the house? You can find both Kendall and Bowen-Worrell via an October 9 thread on our Facebook page.
Enjoy this gallery of images from Bowen-Worrell's collection, and while we're at it, a quick vid put together for the launch of the OverdriveRetro.com site in the year leading up to our 50th anniversary in 2011.
[youtube MRWxpZ_oY4A nolink]