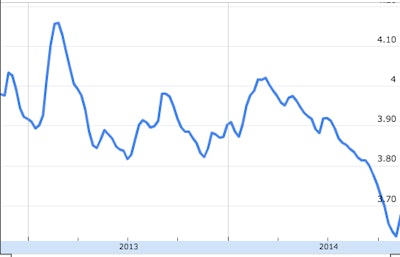 The national average price for a gallon of on-highway diesel fell 3.3 cents in the week ended Nov. 24 to $3.628, according to the Department of Energy's Energy Information Administration.
This is the second week on a row the national average has fallen, marking 19 out of the last 21 weeks that the price has seen a week-to-week decline. The price of diesel bucked its downward trend two weeks ago, rising 5.4 cents. The last two weeks, however, made up for that increase — this week's 3.3-cent drop and last week's 1.6-cent drop.
The U.S. price of diesel as at a near-four-year low, with this week's being the lowest since February 2011 (save for the price two weeks ago).
The Nov. 24 price was also 21.6 cents lower than the same week last year.
All regions in the U.S. saw a price drop too, led by a 4.4-cent drop in the California sub region and followed by a 4.3-cent drop in the Midwest and a 4.1-cent drop in the West Coast (including California).
The California subregion still has the country's most expensive diesel, $3.797, followed by the Midwest's $3.743 and the Rocky Mountain region's $3.740.
The Lower Atlantic has the U.S.' cheapest diesel, $3.441, followed by the Gulf Coast's $3.511.