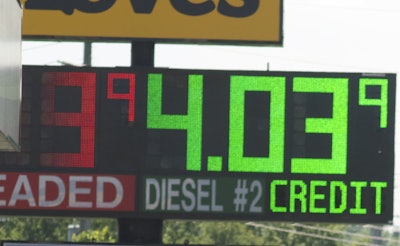 The country's average price for a gallon of diesel fuel should continue to fall this year and next, according to the Department of Energy's latest Short Term Energy Outlook report, published last week.
The summer slide projected by the DOE seemed to have come to fruition, with the country's average diesel price sliding nearly 20 cents since June. And that trend is expected to continue, the DOE says, due to falling crude oil prices.
The DOE projects diesel to average $3.68 in the fourth quarter and $3.85 for the year — 7 cents a gallon lower than 2013's average of $3.92.
The country's average price is expected to decline another nickel in 2015 to a yearly average of $3.80, the DOE says.
The price of natural gas is expected to fall some in 2015 too. Consumption and production are both expected to increase.