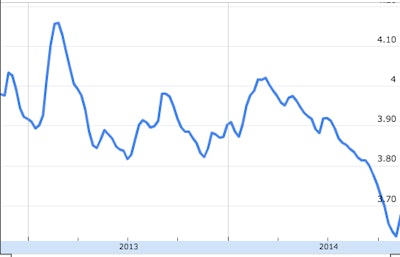 The national average price for a gallon of on-highway diesel rose 5.4 cents in the week ended Nov. 3 to $3.677, according to the Department of Energy's weekly fuel report.
The increase snaps an 18-week streak of drops (except for one week in September in which the price saw no change) and is the largest week-to-week price increase since last September, when the possibility of U.S. intervention in the Syrian civil war caused a temporary spike in fuel prices.
The national average price is still 15.5 cents lower than the same week last year, the DOE reports.
The week's big increase was mostly spurred by two big regional jumps — a 16.4-cent climb in the Midwest and an 8.3-cent increase in the Rocky Mountain region.
The Gulf Coast saw a 3-cent increase, and the West Coast less California region saw an eight-tenths of a cent increase.
The average price in all other regions fell, led by a 3.6-cent drop in the Lower Atlantic and followed by a 2.9-cent drop on the East Coast and a 2.8-cent drop in the New England region.
California had the country's cheapest diesel, $3.841, followed by the Rocky Mountain region's $3.796 and the Midwest's $3.788.
The Lower Atlantic had the country's cheapest diesel, $3.497, followed by the Gulf Coast's $3.562 and the East Coast's $3.568.