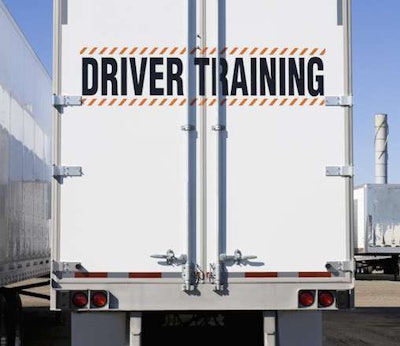 Reefer giant C.R. England (No. 17 in the CCJ Top 250) has asked the Federal Motor Carrier Safety Administration to exempt it from federal rules requiring commercial learner's permit holders to be accompanied in the front seat by CDL holders during on-highway training.
C.R. England cites carriers' "desperate need" for drivers as reason, saying the regulation "limits C.R. England's ability to effectively and efficiently recruit, train and employ new entrants to the industry. The exemption is requested due to the significant burden that this rule may create on the driver supply for C.R. England."
Prior to the implementation of the rule, states regularly issued temporary CDLs to drivers who had passed skills tests, C.R. England notes in its request. The temporary licenses allowed the carrier time to route the new driver to their home state to obtain their final CDL.
It also allowed C.R. England to get the driver into an on-the-job training position with a driver-trainer, creating a productive team operation until they could be sent to their home state to finalize obtaining their CDL.
The driver-trainer could supervise and train, C.R. England says, but he or she was not required to be in the front seat at all times.
"Either we send the driver to their home state by bus or airplane, at C.R. England's expense, and hope that the CLP holder obtains the final CDL and returns to C.R. England, or C.R. England must incur double the cost for about half of the production by sending them to their home state on one of our trucks," the petition states.
FMCSA is accepting public comment on the request until Dec. 29. Click here to submit a comment.