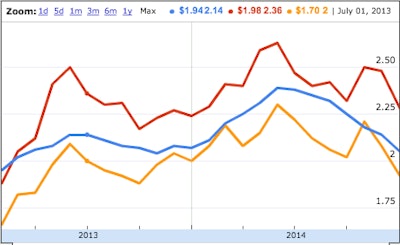 Per-mile rates on the spot market fell again in January, according to data released today by Internet Truckstop, with the roughly half-year downslide of spot market rates erasing some historic gains made in the first half of 2014.
Fuel prices may be the biggest culprit in rates' downward trend, as the big drops in diesel prices in recent months have caused carriers to change fuel surcharges, ultimately changing the gross spot market rates.
The linehaul portion of rates — the actual base rates — have still been improving however, according to reports recently. So the net gain to carriers may be greater, despite lower gross rates. Lower load volumes and greater truck availability, however, have also put downward pressure on spot market rates of late.
Rates in all three segments — reefer, dry van and flatbed — fell from December, according to Internet Truckstop's data. The drops follow declines by all three in December, too.
Reefer rates fell 20 cents to $2.28 — four cents higher than last January and the lowest since February 2014.
Flatbed rates fell 9 cents to $2.05. That's 2 cents lower than last January and the lowest since November 2013.
Van rates dropped 16 cents to $1.92 — the first time the segment has fallen below the $2 mark since November 2013 and the lowest since October 2013.