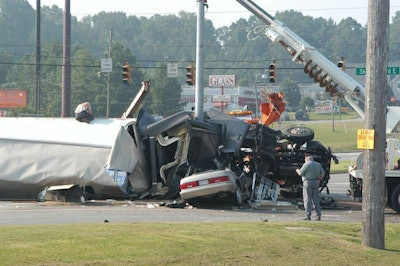 The public comment deadline on a rule that could increase the amount of liability insurance required to be held by carriers ends Feb. 26, and owner-operators and other industry stakeholders have until midnight 11:59 p.m. tonight to submit their input.
The Federal Motor Carrier Safety Administration published an Advanced Notice of Proposed Rulemaking on Nov. 26, following an April-issued report last year announcing its intentions to explore raising the current $750,000 minimum.
Trucking groups like the Owner-Operator Independent Drivers Association and the American Trucking Associations both contend that just 1 percent of all trucking-related crashes exceed that minimum.
An increase to the current minimum, they say, is not warranted.
The agency's Nov. 26 ANPR was essentially a survey for carriers. The 26-question notice asks motor carriers about their current premiums, how often crashes exceed their insurance coverage, potential impacts of increasing liability minimums, self-insurance and more.
Click here to read Overdrive's December coverage of the ANPRM and what it asks carriers.
Click here to visit the regulations.gov rulemaking portal to submit a formal public comment.
The agency has said it will use responses from the ANPRM to determine how it will proceed with the rulemaking.