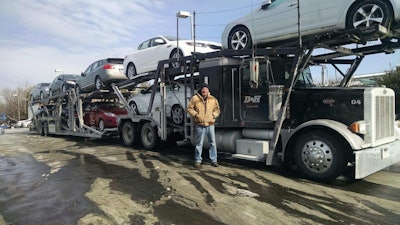 Maryland-based D&H Trucking owner-operator David McCombs (above) and his wife, Holly, an insurance agent with Campbell Insurance Services of Olney, Md., have "kept our grandfathered plan" through the first two open-enrollment periods under the Affordable Care Act, Holly says. An individual-market plan purchased many years ago, it's a compliant one under the ACA, given it was purchased prior to the law's enactment and meets program guidelines. "For some people, it's cheaper to switch to a new plan" from the exchanges, Holly says, "but because I have the two kids on it, it's still less expensive."
Most covered operators remain in plans like the McCombs', secured outside the ACA exchanges, whether on a spouse's employer-provided plan or one grandfathered into ACA compliance:
Owner-operators' health insurance outlook headed into the beginning of late-2014 open enrollment
Holly has an interesting take on health insurance, given her proximity to her husband's car-hauling business and her own involvement as an independent contractor in insurance. She's not among those who perceive a deceleration in premium hikes over the years since ACA's inception: "Insurance is just so much more expensive than it was before the ACA. I don't think it's slowing down, and I don't think it's going to slow down."
Looking back to 2010, the year the law was passed, the McCombs family policy's premium cost has "gone up about 300 percent," she says. "Year to year, that doesn't look so bad, but that's 300 percent since 2010."
Holly notes that those who underestimated 2014 income and purchased insurance on the exchanges with a subsidy will have to repay some of that subsidy. That will be more than a few people, since average owner-operator income rose 7 percent for ATBS clients to about $56,000.
Granted, "it can be hard to know what income is going to be" a year in advance, she says. "You have to really be self-responsible and track your income through the year. If it's changed significantly, even by just $10,000, you need to log back on and adjust your income" on your exchange website. On top of that, "people lose their passwords, they lose their logins" – a few of the headaches, not to mention the extra forms, that come with subsidized insurance.
"Just keep checking the news," Holly says. "Once tax season hits, people are going to freak out."