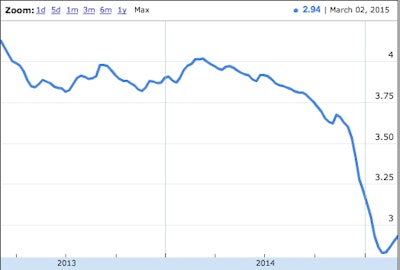 The national average price for a gallon of on-highway diesel rose for the fourth straight week in the week ended March 2, rising 3.6 cents to $2.936, according to the Department of Energy's weekly report.
The U.S. at-pump average has now climbed 10.6 cents a gallon since it began its upswing in mid-February.
The consecutive price increases follow nearly a six-month string of price drops that pushed the country's diesel average to its lowest point in five years. In the most recent week, the U.S. diesel average is still $1.080 lower than the same week last year.
All regions in the U.S. saw price increases, too, led by a 13.3-cent increase in the Central Atlantic region, followed by an 11.8-cent increase in the New England region.
The Central Atlantic now has the U.S.' most expensive diesel, $3.293, followed by the New England region's $3.291 and the California subregion's $3.229.
The Rocky Mountains and the Gulf Coast have the country's cheapest diesel, $2.779 and $2.796, respectively.