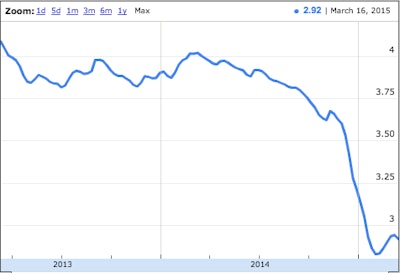 The national average price for a gallon of on-highway diesel fell 2.7 cents in the week ended March 16, derailing its march to the $3 threshold, at least temporarily.
The Department of Energy in its weekly report pegged the U.S. at-pump average at $2.917 — $1.086 lower than the same week last year.
Following a nearly six-month-long decline that ended in early February, the national average price climbed a few cents each week for five consecutive weeks, coming close to once again piercing the $3 mark.
The DOE, however, predicts the U.S. diesel average to remain flat throughout the year. Its most recent forecasted average was $2.89.
All regions in the U.S. also experienced a price drop, except for the Rocky Mountain region, whose average rose 1.1 cents.
The New England region led all price drops with a 6.2-cent decline, followed by 3.2-cent drops in the Midwest, Gulf Coast and the West Coast.
The Central Atlantic region has the country's most expensive diesel, $3.311, followed by New England's $3.270 and California's $3.202.
The Gulf Coast has the U.S'. cheapest diesel, $2.763, followed by the Rocky Mountains' $2.812 and the Midwest's $2.82.