Kenworth Truck Company is offering a $1,000 rebate on qualifying purchases of the new Kenworth Icon 900 to members of the Owner-Operator Independent Drivers Association during 2015.
The Icon 900 is a customized, limited edition truck introduced at the recent Mid-America Trucking Show. Kenworth is offering the Icon 900 in a limited production run and is accepting orders now.
The truck is available with 72- or 86-inch sleepers and up to a 600-hp engine. It features a unique chrome hood badge, may be ordered in any color and comes standard with many chrome and stainless steel accessories.
The exterior includes such features as stainless steel fender guards, upgraded headlights, headlamp covers, under-door panels and sleeper panels, grille closeout panel and a large sun visor.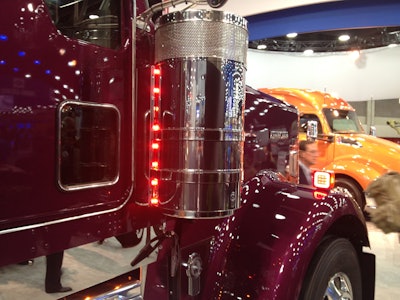 LED panel lights mounted under the cab and sleeper panels and to the front and rear of the stainless air cleaners make the truck stand out when running at night. Amber LED side turn indicators and 4-inch sealed LED stop, turn and taillights emit a unique glow for a special ambiance.
The interior features a custom dash plate showing the production number for this limited truck. Also included are high-back leather seats with special embroidering to signify the limited edition. The sofa bed is upgraded to leather to match the seats, and the dash surrounds and door pads are chrome.
Buyers must show their OOIDA membership card to their Kenworth dealer at time of purchase in 2015. Limit for a single customer is three qualifying Kenworth trucks per year. Other limitations apply to the Kenworth rebate program. See your Kenworth dealer for more details.