Kenworth announced Wednesday at the Mid-America Trucking Show in Louisville, Ky. the launch of a customized, limited edition, premium truck – the Icon 900.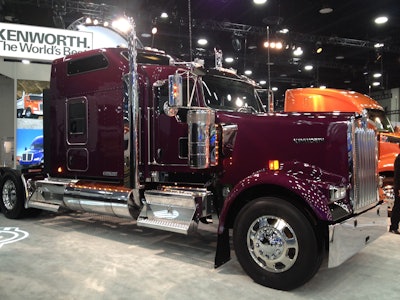 The Icon 900 is a highly stylized and modernized tribute to the classic W900L's silver anniversary, marking 25 years in production. Kenworth assistant general manager for sales and marketing Jason Skoog called it "a "trucker's truck."
The Icon 900 "is a true reward for the customers who want only the true driver experience," said Kenworth general manager and Paccar vice president Preston Feight, adding each truck will receive its own uniquely numbered dash plate upon production. "If this truck doesn't get you excited, you probably want to check your pulse and think about what industry you're in," he says.
The Icon 900 can be ordered in any color and comes standard with many chrome and stainless steel accessories. The Kenworth Icon 900 features a chrome hood badge only available on the Kenworth Icon 900.
Other distinguishing features include stainless steel fender guards, upgraded headlights, headlamp covers, under door panels and sleeper panels, grille closeout panel, plus large sun visor are just some of the items included in the exterior package.
To make a splash of style at night, the truck features LED panel lights mounted under the cab and sleeper panels, along the roof, and to the front and rear of the stainless air cleaners. Amber LED side turn indicators and 4-inch sealed LED stop, turn and taillights emit a unique glow for a special ambiance.
"The signature lighting will be beyond belief," says Kevin Baney, Kenworth Chief Engineer.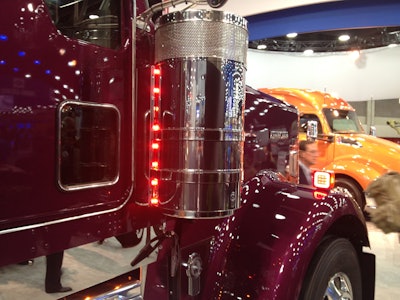 On the inside are high back leather seats with special embroidering to signify the limited edition, the sofa bed is upgraded to leather to match the seats, and the dash surrounds and door pads are chrome.
Kenworth is already taking orders for the limited production run of the truck. The Kenworth Icon 900 is available with 72- or 86-inch sleepers and up to a 600-hp Cummins ISX engine. Baney says he expects upwards of 1,500 units to be ordered initially.
In Q&A with press, Kenworth representatives were quick to emphasize that the Icon 900 did not represent a swan song for the W900. The classic Kenworth model remains available for order and emissions/fuel-efficiency requirement were unlikely to change that given the manufacturer's ahead of the curve on fuel-economy improvements writ large. –Todd Dills contributed to this report.
Catch views of the unit at Kenworth's booth at MATS in the video above and in the gallery below.