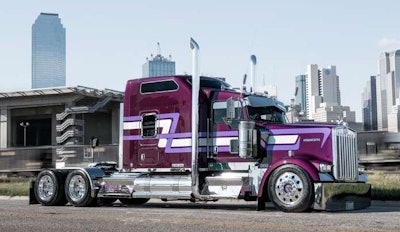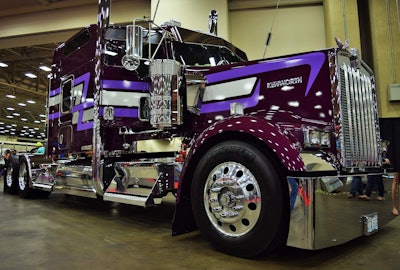 If this custom Kenworth Icon 900 looks familiar, perhaps you were at the Great American Trucking Show, where it made its Overdrive's Pride & Polish debut.
If not, you might be one of the thousands who saw my prior "First look" vid of the Kenworth Icon 900 when the model made a big splash at the Mid-American Trucking Show earlier this year.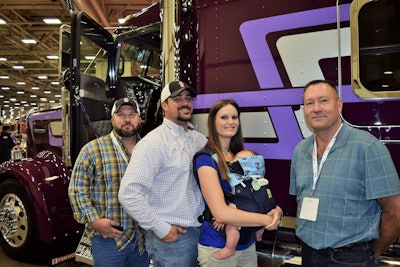 Kyle Cousins (pictured, middle), part owner and operator of the 30-truck Fleenor Bros. hazmat fleet out of Carthage, Mo., with team members Sid Calangelo (left); Counsins' wife, Sara with son Kolton; and head shop man Kenny Coffey, pulled in first in the "new" category in the GATS Pride & Polish, and we talked immediately off the awards show on Saturday. In that talk, I learned the truck was in fact the very same unit that had been out on the show floor at MATS, Cousins and co. taking delivery then from a dealer a month or two later out of Glasgow, Ky., and giving it a custom skin with partners from Thunder Graphics (the stripe treatment mimics the Icon factory stripe pattern) to a bevy of other suppliers.
A lot about it has changed, as you'll see in the "second look" vid below. They've done a bang-up job on it, for sure, and you can fully expect to see more of it in 2016 Pride & Polish competition, says Cousins.
Make a comparison look in the "first look" vid that follows the update version below, itself followed by a gallery of images from my shoot with the rig this past Saturday.
And stay tuned over the next year, Cousins adds. There's a lot more in store.