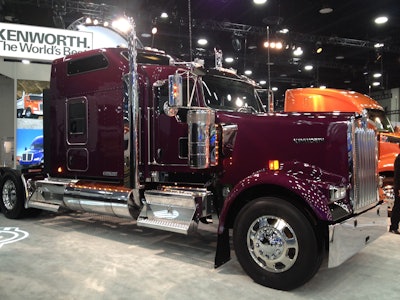 Fleets and owner-operators purchasing the new Kenworth Icon 900 by year's end could be eligible for a $3,000 rebate.
Kenworth and Paccar Financial are offering the rebate for qualifying U.S. and Canadian fleets and owner-operators. The Icon 900 is a customized limited edition tractor introduced at the Mid-America Trucking Show in March.
"Since its introduction, the Icon 900 has generated a lot of interest from owner-operators seeking that traditional style truck, to large fleets looking for a driver's reward truck and even some customers purchasing it as a collector's item," said Jason Skoog, Kenworth assistant general manager for sales and marketing.
The Icon is available with 72- or 86-inch sleepers and up to a 600-hp engine. It features a unique chrome hood badge, may be ordered in any color and comes standard with many chrome and stainless steel accessories. The exterior includes such distinguishing features as stainless steel fender guards, upgraded headlights, headlamp covers, under-door panels and sleeper panels, grille closeout panel and a large sun visor.
The interior features a custom dash plate showing the production number for this limited truck. Also included are high back leather seats with special Icon 900 embroidering to signify the limited edition, the sofa bed is upgraded to leather to match the seats, and the dash surrounds and door pads are chrome.
Under the joint Paccar Financial and Kenworth program, there is a maximum quantity of 20 units per customer.