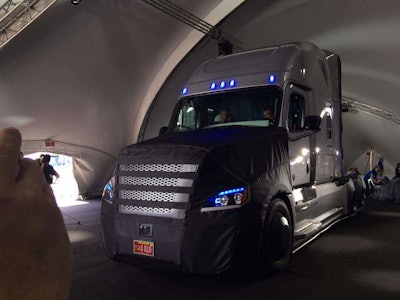 Freightliner Trucks unveiled May 5 in Las Vegas the first road-legal self-driving truck for the North American market.
The truck, dubbed the Freightliner Inspiration, can legally operate in the state of Nevada, and it's commercially viable, Freightliner says.
It's not available for purchase yet, and details are still scarce. Freightliner will reveal more Wednesday, May 6.
The Inspiriation, however, will no longer be relegated to just test tracks and closed roads. It will be running in public traffic throughout the state of Nevada while engineers refine its operation.
Stay tuned to Overdrive for more details as Daimler Trucks North America, Freightliner's parent company, unveils more today.
Here are tweets from the truck's initial soft launch Tuesday:
Here it is: They're about to pull the curtain back. First US autonomous truck. pic.twitter.com/YYOaDv4Zpd

— Jack Roberts (@JackRobertsCCJ) May 5, 2015
It's official! NV Governor grants 1st license for #Freightliner autonomous truck used on US highway #inspirationtruck pic.twitter.com/YJGLauwh5W

— Freightliner Trucks (@freightliner) May 5, 2015
It's called the Inspiration. Front is still camo'd until tonight. #inspirationtruck pic.twitter.com/XN4p91uN7O

— Jack Roberts (@JackRobertsCCJ) May 5, 2015
The #inspirationtruck truck is a "Level 3" vehicle: Autonomous control overseen by a driver who is ultimately in command.

— Jack Roberts (@JackRobertsCCJ) May 5, 2015
The @freightliner #inspirationtruck MUST have a driver. This is not just a rolling robot cruising down the highway.

— Jack Roberts (@JackRobertsCCJ) May 5, 2015
Yes: Bernhard: #inspirationtruck is first ever licensed autonomous truck for commerical use in North America. pic.twitter.com/OnYgcHXxPF

— Jack Roberts (@JackRobertsCCJ) May 5, 2015
Bernhard: This autonomous truck is fully registered and legal to operate in Nevada.

— Jack Roberts (@JackRobertsCCJ) May 5, 2015
Follow @trucknewsJJ @JackRobertsCCJ for live coverage of Freightliner's #inspirationtruck event! pic.twitter.com/z8pkojHQaC

— Overdrive Magazine (@OverdriveUpdate) May 5, 2015