"None of the funds made available by this Act or previous appropriations Acts under the heading 'Motor Carrier Safety Operations and Programs' shall be used to pay for costs associated with design, development, testing, or implementation of a wireless roadside inspection program…" –Section 135 of the House transportation appropriations bill that passed its committee last week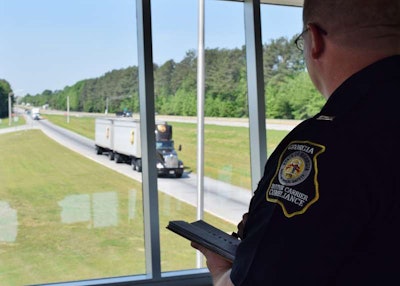 As with truck systems, inspections could see in relatively short order a future in which more happens with less human involvement. The Wireless Roadside Inspection program from the Federal Motor Carrier Safety Administration is far from prime time, but with a planned multistate field operational test in the works and slated to begin in earnest late this year, it's garnered enough attention that some members of Congress have been persuaded to ask a critical question about it — essentially, is it worth it?
In addition to a block on funding insurance-hike work and extension of the restart change rollback, an item halting funding to the WRI research and design effort was also included in the DOT funding bill that moved out of committee last week.
The block would require the DOT leadership to report "to the House and Senate Committees on Appropriations that such program does not conflict with existing non-Federal electronic screening systems," the language of the item continues. In an online seminar last week, Steve Vaughn of Help Inc., provider of the PrePass system, described WRI as essentially an electronic screening tool focused on looking at what's possible in the future to "increase the number of safety inspections. What they're looking to do is develop a system to retrieve real-time safety data at the roadside" without a direct person-to-person interaction between the driver and law enforcement.
When a truck enters an area, data about the carrier, the driver's duty status and recent hours history and among other things vehicle condition information recorded by on-vehicle sensors is "sent to the inspection facility," Vaughn said. "And the plan shows that it will give a recommendation to the inspector at the site to either inspect or don't inspect."
Both industry and state jurisdictions have concerns, Vaughn said, the primary one being data privacy.
How much data collected by automated roadside systems "will be made available to the public?" Vaughn asked. "What will be available to competitors?" As with CSA, "If the public can get it, competitors can, too."
The appropriations bill draft language addressed that concern with an additional certification required of DOT that WRI, to be ultimately implemented, would not "require additional statutory authority to incorporate generated inspection data into safety determinations or databases." It also makes certain that DOT puts in place restrictions as a part of the initiative "to specifically address privacy concerns of affected motor carriers and operators."
Only 180 days following such actions taken or certified by the DOT would funding for the program be allowed to continue.
Commercial Vehicle Safety Alliance Executive Director Steve Keppler called industry and state concerns with the Wireless Roadside Inspection initiative multifaceted and legitimate. "Some people are concerned that the federal government is building a system that could compete with existing systems," he said. "Is that the appropriate federal role?"
Both PrePass and Drivewyze offer systems currently that perform some of the same functions as WRI, with the latter company in 2013 going so far as to demonstrate how existing, commercially available technologies could quite simply be used to populate a Level 3 inspection report with data adequate enough to efficiently upload an official inspection of a truck outfitted with electronic logs.
"There's concern that people don't know where this is going," Keppler added. "Will FMCSA require the states to adopt whatever they come up with? Until they can articulate what the long-term goal is," the bill's language would put a stop to the program, even if it explicitly notes that "nothing in this section shall be construed as affecting the Department's ongoing research efforts in this area."
Read more about the WRI program's background in this 2011 dispatch from an early WRI test site in Greene County, Tenn.