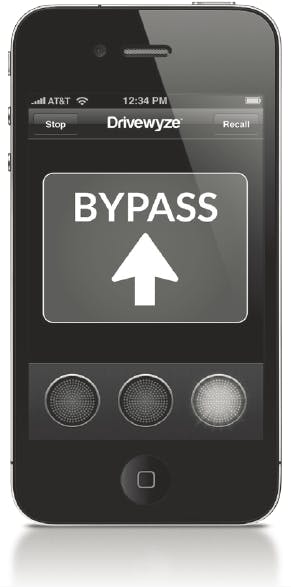 Mississippi and eight other states have chosen to expand their Drivewyze bypass programs. Colorado, Kentucky, Louisiana, New York, Pennsylvania, Texas, West Virginia and Virginia all have expanded, or will within weeks, Drivewyze weigh-station bypass at an additional 37 mobile sites and weigh stations all told, Drivewyze officials note.
When the expansion is completed, these states will offer Drivewyze service at a combined total of 195 sites.
With 15 new sites coming on board in his state, Chief Willie Huff, director of enforcement for the Mississippi Department of Transportation, said there's a good reason why the mobile-based weigh station and inspection site bypass service has been so much in demand in the Magnolia State.
"It's helping us to reward those truck fleets and operators with good safety records with bypass opportunities while also providing my enforcement officers and inspectors a way to prioritize their work and focus on those fleets that should be inspected," Huff said.
The 15 new sites in Mississippi include six sites at three weigh station locations on U.S. Interstate 20 and on U.S. Route 78.
"By turning on Drivewyze at these three locations, we believe we can significantly reduce congestion in and around those stations, particularly since we've seen more and more trucks equipped with active Drivewyze apps enter those stations in the past several months," Huff said.
"Since the service was first offered three years ago, Drivewyze PreClear weigh station bypass has grown from 180 locations in 15 states to 611 in 35 states," Drivewyze's Brian Heath said.
Like Mississippi, Pennsylvania has also added Drivewyze at four new sites, bringing the state's total enabled sites to 16, in response to a growing demand for the mobile-based weigh station bypass, according to Corporal Rick Koontz, an enforcement officer with the Commercial Vehicle Safety Division at the Pennsylvania State Police. Koontz is also president of the Commercial Vehicle Safety Alliance's Region 1, which includes several states along the Atlantic Ocean, Puerto Rico and the U.S. Virgin Islands.
"With Drivewyze, we're experiencing efficiencies in our day-to-day operation that we want to extend across Pennsylvania," Koontz said.
Drivewyze uses GPS technology and the mobile Internet instead of traditional battery-operated transponders, which must be mounted on the windshield and can only be used at sites equipped with poles and transponder readers, according to Heath. The GPS technology and mobile Internet add transponder-like functionality to electronic logging devices, smartphones and tablets.