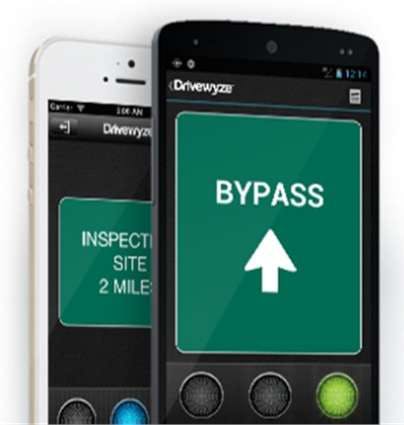 Fleet-management solutions software/hardware provider Omnitracs, known for its multifunction electronic logging devices, has partnered with Drivewyze Inc., provider of the PreClear mobile-based bypass service, to equip Omnitracs MCP platform units with PreClear bypass services.
The weigh station bypass service will see a tiered roll-out early in the new year, starting with Omnitracs' MCP110 and MCP200 units. The MCP50 unit is expected to follow suit soon thereafter. Upon completion, more than 360,000 Omnitracs-equipped trucks in North America will be able to access and benefit from the weigh station bypass services powered by Drivewyze.
"By providing the Drivewyze PreClear weigh station bypass service, Omnitracs is able to offer customers an end-to-end mobile solution that reduces costs and improves productivity," said Andrew Kelley, Omnitracs' vice president of corporate development.
Drivewyze (typically a $15.75 per month service) uses GPS technology and the mobile Internet instead of traditional battery-operated transponders, which must be mounted on the windshield and can only be used at sites equipped with poles and transponder readers. The GPS technology and mobile Internet add transponder-like functionality to Omnitracs' ELDs.
Drivewyze is available at 611 fixed weigh stations and mobile inspection sites throughout 35 states today.