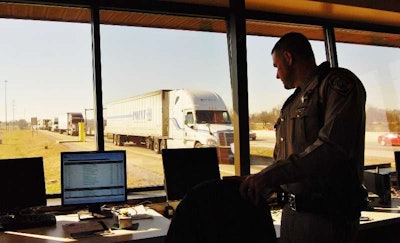 In a briefing document prepared for the Transportation Research Board's meeting early last month, the Federal Motor Carrier Safety Administration laid out its updated timeline for the third and final phase of its Wireless Roadside Inspection research effort. An operational test in several states, Phase III of the project is under way on a limited number of vehicles. It begins in full next month, involving 600 commercial vehicles oufitted with telematics that allow for the transmission of operator hours and credentials to the roadside for inspection without the necessity of stopping for enforcement to manually inspect.
The Wireless Roadside system, broadly speaking, also envisions the transmission and inspection of vehicle systems data without the necessity of operators stopping, though the Phase III test is reportedly limited to driver operational data.
Notably, an under-reported item in the FAST Act highway bill, passed late last year, showed Congress exercising its oversight powers by requiring FMCSA due diligence on the program's potential conflicts with existing, privately available screening technologies.
As detailed in the FMCSA's briefing document, the FAST Act requires the Secretary of Transportation to submit a report that certifies that the program doesn't do the following three things:
Conflict with existing non-Federal electronic screening systems,
Create capabilities already available, and
Require additional statutory authority to incorporate generated data into safety determinations.
The FAST Act likewise requires the Secretary to certify that privacy concerns of truckers and other participants in any Wireless Roadside program are addressed.
Further, the late-2015 appropriations bill made future WRI funding contingent on submission of the above report back to Congressional transportation committees. As FMCSA notes in the briefing, however, "the Appropriations Act does qualify this requirement, making clear that it is not to be construed as 'affecting … ongoing research efforts in this area.' … While the FAST report will need to be generated, the spending limitation and required reporting mandate does not affect current work."
In the latest available timeline, FMCSA is working toward a September 2017 end date for the WRI Phase III program and could then, according to its website, make a "go/no-go decision for WRI national deployment."
According to past reporting, 20 or more Phase III test sites are located along lanes in Kentucky, Tennessee, Missippi, North Carolina and Georgia.
FMCSA's Phase II analysis of WRI stated part of the overall goal was to "increase commercial vehicle inspections and to potentially realize significant improvement in commercial vehicle safety without increasing the burden on enforcement or compliant operators."
Whether such a program would augment the existing safety-inspection protocols or be instituted as an alternative and/or voluntary compliance model remains an open question. Vote in the following poll to share your thoughts on potential benefits.