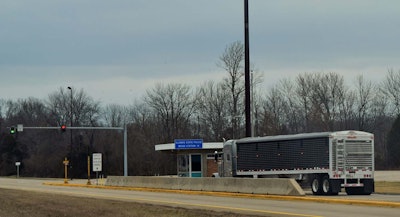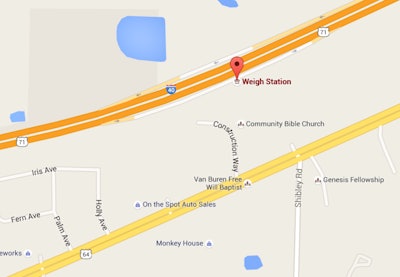 Dodging the scale on I-40 near Alma, Ark., might well get a little bit tougher, according to this report by Noel Oman in the Northwest Arkansas Democrat-Gazette. The state, on a tear issuing hours of service violations (particularly for the easy pickings of the required 30-minute break) in recent years, has plans in place to invest almost $1 million in a "virtual weigh station" with weigh-in-motion technology on U.S. 64 near Alma, Oman reports:
If the bid withstands a department review and the company is awarded a contract, construction could begin within four to six weeks with the idea of beginning operation early next year, said Ronnie Burks, the department's chief of commercial truck enforcement.
Read more from Oman's report at this link.
The reason? In what Oman calls the "cat-and-mouse game" of supposed trucker bypassing of weigh station entry points on I-40, the cat is looking for another way to enforce weight restrictions — and do more with less, as we've reported on previously, to boost those inspection numbers, perhaps, by use of the "sophisticated technology to steer trucks back to the interstate weigh station," Oman writes.
In 2014, Arkansas conducted nearly 7 in 10 of its total inspections at fixed weigh-station locations, as reported in the CSA's Data Trail series last year.
The virtual station will not only weigh the vehicle in motion but also automatically capture the truck's DOT number — officers on hand nearby can then do licensing/registration checks and take follow-on actions, as it were.
If that sounds familiar, that's because it's been getting more so in recent years, whether weigh-in-motion is in place at fixed weigh-station facilities or elsewhere. Way back in 2009, a Federal Highway Administration white paper on virtual weigh station operational considerations noted at least 10 states had some functioning virtual station already deployed, each and every one transmitting data from crossings to remote officers monitoring the data and capable of intercepting an overweight truck.
Watch for the share of Arkansas' inspections conducted at roadside to boost in the coming years.
Read more about the project on U.S. 64 via Oman's story at this link.