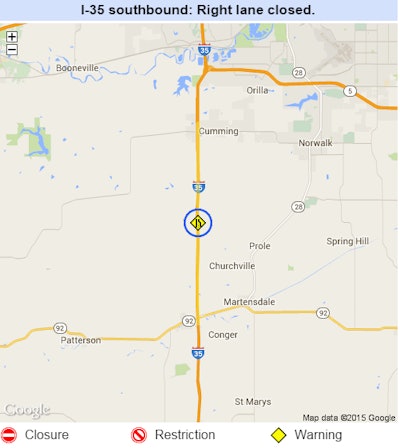 Welcome to construction season, drivers.
The Iowa Department of Transportation reports the right lane of SB I-35 between exits 68 (Iowa 5, near Cumming) and 52 (County Road G50, near Bevington) has closed for road work.
The closure is expected to run through June 2.
In both directions on I-35, too, the state reported, the roadway will be reduced to one lane between exits 36 (County Road R35) and 56 (IA 92, near Bevington) from 6 a.m.-6 PM local time, through June 1.
State also reported temporary closure of the I-380 SB rest area between exits 13 (County Road E70) 10 (County Road F12 to Cedar Rapids). The rest area is closed due to road construction work through May 26. The closure includes truck parking facilities through this Thursday, May 21, then parallel parking only through May 26.
More highway haps from our Twitter feed, @OverdriveUpdate, where we routinely share traffic, closure and other information:
RT @ajcwsbtraffic: I-75/sb delays: Const. I-75/sb @ Barrett Pkwy in right lane until 4 pm and crash I-75/sb at Hwy 5 blocking left lane.

— Overdrive Magazine (@OverdriveUpdate) May 19, 2015
RT @IDOTDistrict6: Northbound and southbound lanes of I-55 are reduced to one lane in two locations in Logan County… at MM 136 and 139.

— Overdrive Magazine (@OverdriveUpdate) May 19, 2015
RT @ArizonaDOT: You can see the current situation on I-10 West in Casa Grande on our map: https://t.co/YX3PO1eXn0 pic.twitter.com/AdI785Y0gH

— Overdrive Magazine (@OverdriveUpdate) May 19, 2015
RT @Caltrans8: SB I-15@ SR-138, SB off ramp blocked due to big rig accident. #caltrans8

— Overdrive Magazine (@OverdriveUpdate) May 19, 2015