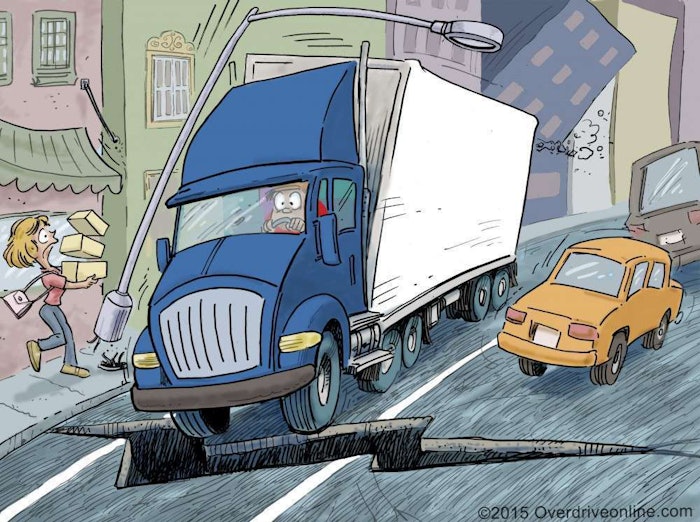 The Nevada Department of Transportation completed 160 hours of bridge inspections following the May 22, 5.3-magnitude earthquake centered in Caliente. Department policy requires that every structure within a 50-mile radius of the epicenter be inspected following a 5.0-magnitude earthquake or higher.
Two teams of engineers examined 55 bridges throughout Clark and Lincoln counties, covering such communities as Caliente, Pahrump, Overton, Mesquite, Bunkerville, Alamo, Pioche and Rose Valley. Inspectors looked for quake-related delaminations, cracks, misaligned bridge members, displacement and settlement, among other things.
"Happily, every bridge inspected was found to be structurally sound and safe for public travel," said NDOT spokesman Tony Illia, adding that safety closures of the high-traffic junction of I-15 and U.S. 95 in the immediate aftermath of the quake did, however, discover a needed repair. The earthquake dislodged the "protective rubber encasing the bridge joint on the southbound U.S. 95 to southbound Interstate-15 ramp," he said. It "serves an important role for minimizing maintenance and prolonging" the structure's overall life cycle by helping to "keep dust, dirt and debris out of the joint gap."
Replacing the protective casing is estimated to cost "about $20,000," Illia said. NDOT planned to solicit bids for the repair this month. The ramp is safe for travel, meantime, and "we are still determining the best time and approach for making the repair," which should wrap within 24 hours, with the work performed at night to minimize traffic disruptions.
More highway haps from @Overdrive Update:
RESTRICTED LANES on I-43 SB @ Hampton Ave due to crash. Right lane open with congestion, use alt routes #BePrepared pic.twitter.com/XyIpukOp6o

— Wisconsin 511 (@511WI) June 2, 2015
I-80 WB: Left lane closed from Exit 201 – IA 21 to Exit 205 – County Road V38 (4m E of Brooklyn). http://t.co/N12LeT9BtI

— Statewide Iowa 511 (@statewideia511) June 2, 2015
Pothole patching on I-39 at exit 54 on 6/2/15. Use caution in area. #ILtraffic

— IDOT District 3 (@IDOTDistrict3) June 2, 2015
KOUNTZE – alternating north & southbound lane closures on US69, 8am-5pm today through Friday from SH326-FM418 for pavement repair.

— TxDOT-Beaumont (@TxDOTBeaumont) June 1, 2015