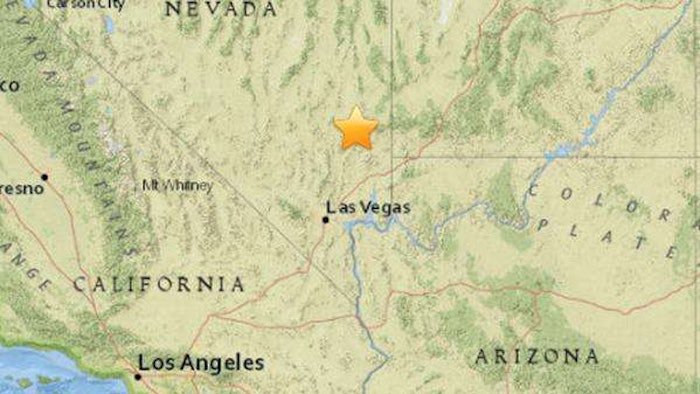 #EARTHQUAKE Magnitude-5.3 quake hits rural area in Nevada; felt 100 miles away in Las Vegas http://t.co/llY3hIGFti pic.twitter.com/mMI6XtnRu0

— ABC7 Eyewitness News (@ABC7) May 22, 2015
The Las Vegas Sun reported Friday afternoon, May 22, that a 5.3 magnitude earthquake occurred in Caliente, Nev., north of Las Vegas, prompting at least one freeway ramp closure to inspect for possible structural damage.
Nevada Department of Transportation spokesman Tony Illia issued a statement that "the U.S. 95 southbound ramp to I-15 southbound is currently closed due to possible structural damage."
A few hours later, around 5:30 CDT, an update came in which Illia described what engineers found at the high-volume U.S. 95/I-15 interchange, which was expected to handle almost double normal volumes over the Memorial Day weekend. Engineers inspected supporting bridge columns and beam pins to ensure the bridge's structural integrity. The Martin Luther King onramp to southbound I-15 and U.S. 95 southbound to I-15 northbound ramps were also closed as a safety precaution.
"The joint damage was pre-existing. The tremblor simply dislodged the protective rubber encasing the bridge seam making it look much worse than it was in reality," said NDOT District I Engineer Mary Martini. "However, we're issuing an emergency contract to repair the seam. Meanwhile, the ramps remain structurally sound and safe for travel."
The cast-in-place concrete and steel reinforced ramps were set to reopen within one hour of that announcement, "And they will remain open throughout the holiday weekend," Illia added.
The I-15/U.S. 95 interchange "sees 250,000 vehicles daily, making it the busiest stretch of roadway in the state with 25,000 lane changes an hour," said Illia. "However, those numbers are considerable higher during Memorial Day with another 198,000 anticipated drivers coming to Las Vegas over the long holiday weekend."
He went on to reiterate the strength of the state's bridge program, statistically. "NDOT inspects its 1,100 bridges statewide at least twice a year. All of our bridge structures are designed to withstand rigorous wind and earthquake loading…. Nevada consequently has some of the best-rated bridges in the country, according to a recent report by the American Road and Transportation Builders Association. Only 1.8 percent of Nevada bridges are classified as structurally deficient, which is the lowest in the country. The national average is six percent."
Nonetheless, a wide inspection effort in the aftermath of the quake was ongoing, he said.