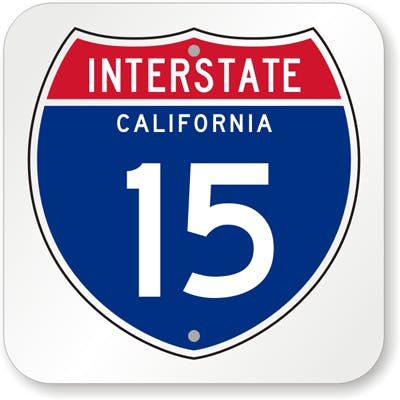 Caltrans is advising southbound Interstate 15 truckers that there will be a full closure at the Nevada state line during the early morning hours of Wednesday, June 17. All SB I-15 traffic will be held at Primm, Nev., from 1 a.m.-4:00 a.m. for overhead sign installation.
The installation is part of an ongoing $40 million project to build the new California Highway Patrol (CHP) Commercial Vehicle Enforcement Facility (CVEF) on SB I-15 just south of Yates Well Road near the Nevada state line. The new facility, expected to open this summer, will allow CHP officers to conduct more inspections of commercial vehicles to identify unsafe conditions and equipment such as faulty brakes, steering, and structurally deficient trucks and trailers. California ranks No. 2 in Overdrive's inspection-intensity rankings, recently updated with 2014 data.
With no viable detours to avoid the closure, all traffic will be diverted off at Primm and held during the closure hours. Truckers and other travelers are advised to plan ahead and avoid the it. If you must travel on southbound I-15 during these hours, be prepared and bring water and ensure that your vehicle is in good running condition.
Parking and facilities are available at Primm, Nev., for food and restrooms. Again, the best plan is to avoid the closure and travel before 1:00 a.m. or after 4:00 a.m. on Wednesday, June 17.
Keep abreast of highway happenings, road construction and more via @OverdriveUpdate on Twitter: 
Milling on MS 7 NB in @cityofoxford until 7PM. Expect delays or find alt routes. #MShwys #drivesafe #watchforworkers https://t.co/k6u5oZyYP2

— MDOT (@MississippiDOT) June 15, 2015
Flash flood watch through late tonight for northern IL and northwest IN. Heavy rain expected with storms today. pic.twitter.com/MenEn5GNrK

— NWS Chicago (@NWSChicago) June 15, 2015
MoDOT crews will begin pavement repairs on the following routes in Pike Co. US 54 and MO 79 – June 16, one lane… https://t.co/lFaOR80yGM

— MoDOT NE District (@MoDOT_Northeast) June 12, 2015
A reminder that the Burnt Well rest area is closed this morning because of an overnight crash. Expected to reopen in a few hours.

— Arizona DOT (@ArizonaDOT) June 15, 2015
Burnt Well rest area is on I-10 East at mile 86. That's west of Tonopah.

— Arizona DOT (@ArizonaDOT) June 15, 2015