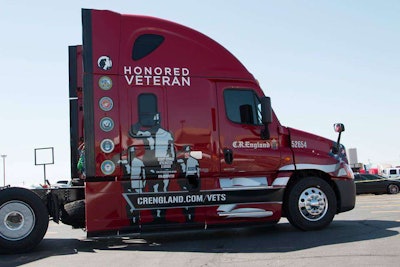 C.R. England says it's honoring its military veteran drivers and employees with the addition of six new military-themed trucks and two trailers to the company's "Honored Veterans" fleet.
In June of last year, C.R. England introduced five military-themed tractors and trailers into its fleet. Last November, the company introduced five additional tractors and trailers, and each year, the company will add additional military-themed equipment.
During last week's event, the new trucks and trailers in the "Honored Veterans" fleet were unveiled. The trucks are 2016 Freightliner Cascadia Evolutions (all with automatic transmissions). The trailers are manufactured by Utility and have new Thermo King Precedent S-600 reefer units.
The drivers operating the trucks are Steve Calder, Darryl Wright, Jeremy Jellison, Chris Yates, Josh Smith and Hardrick Crawford — all of whom have done tours of duty in the U.S. military.
The carrier last week also noted changes made implemented in the past year to assist veterans in becoming truck drivers, including: a team to recruit veterans, a veteran support network, career counselors and tuition incentives, which offers vets who complete driver training within six months full tuition reimbursement.