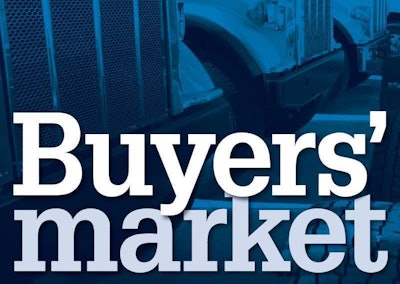 The market for used trucks, favored by owner-operators in three out of five purchases, is better than it has been in years. Thanks to a higher volume of newer used trucks becoming available, prices have dropped. Also, interest rates are in owner-operators' favor, particularly those with good credit.
How owner-operators describe their most recent truck purchase/lease
Source: All data in this story, unless otherwise noted, is from Overdrive's 2015 Truck Purchase and Lease Survey
"One thing we look at is build rates," says Mike Meehan of the Fleet Advantage leasing service, which is geared toward larger fleets. Because of the recession, production was low for 2008-'10 model trucks, most with 2007-'09 emissions-spec engines. Many owner-operators also were reluctant to buy at that time due to emissions-system performance.
Because supply was low, pricing for those trucks has "been very lofty for the last 18 months or so," Meehan says. As the economy recovered, production picked up. Now many of the 2011-'13 model-year tractors, with post-2010 engine technology, are hitting the used market. They're more affordable, and trucks with similar age on them are expected to get more so year over year as times goes by.
It's also a better time for getting a truck loan. The cost of borrowing is generally low, says Matt Manero, president of Commercial Fleet Financing: "Credit is somewhat liberal right now." He listed his company's guidelines for creditworthiness: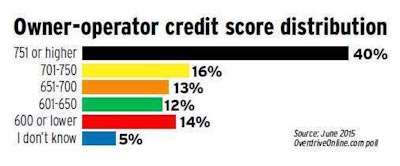 "A" credit borrowers, 700+ credit score: If the piece of equipment makes sense relative to the owner-operator's time in business – "the stability factor," says Manero – the borrower can get a loan at about 5 or 6 percent.
"B" credit, 650-700: About 7 to 9 percent.
"C" credit, 600-650: Above 9 percent to the low teens.
Below its "C" level, the "subprime" space, CFF usually doesn't finance borrowers.
Measuring through the first quarter of this year, prices for two- to three-year-old sleeper tractors were down about 3 percent year over year, based on data in the May report from the National Auto Dealers Association and American Truck Dealers.
This illustrates a trend Meehan sees among his customers – the acceleration of trade cycles as new-truck fuel-economy performance continues to improve. "It started with the for-hire carriers, who figured it out pretty quickly" as the transition to selective catalytic reduction emissions systems was made and the new 2010-and-later emissions-spec engines were put into service. Then large private fleets took the same approach.
Today, such entities are "putting 2013-'16 model years into service, and they're seeing such an improvement in fuel economy" that the movement of those vehicles through the trade cycle to the used market, as well as the trucks they replace, is accelerating. "They may hold on to a tractor for four years," Meehan says, instead of the seven years that had become common.
Meehan and Fleet Advantage are advising fleet clients with truck remarketing departments that now is a good time to consider getting more aggressive with trade cycles as used prices fall.
Landstar-leased owner-operators John and Jamie Bynum bought their second truck from such a remarketing wing in 2013. Their 2009 Freightliner Century, purchased in 2013, followed a 2006 Freightliner bought from Schneider National's truck-sales arm, SchneiderTrucks.com. At that time, they were close to the end of a lease-purchase when, Jamie says, "we temporarily got out of trucking" for personal reasons.
As the Bynums, with a home base 40 miles north of Tampa, Fla., considered buying a truck for John to begin driving solo, he mentioned Schneider National, "knowing that they actually maintained their trucks well," Jamie adds. "We've talked to quite a few Schneider drivers."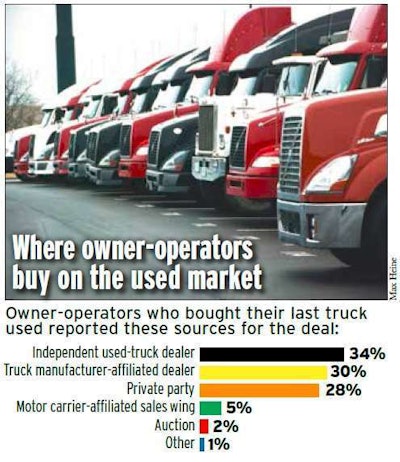 They financed their 2006 Freightliner initially on a two-and-a-half-year contract with payments at about $1,000 a month. Both that transaction and their 2013 purchase of the 2009 Century were financed through CFF at "around 8 percent." The most recent purchase remains under a three-and-a-half-year note. "Payments are right on $1,000 again," Jamie says.
The Bynums' credit was good enough to avoid subprime rates, but plenty of owner-operators with bad credit are finding willing lenders. "There's a whole resurgence of subprime over-the-road finance companies popping up," says Manero.
The good side is that owner-operators whose credit was damaged in the last recession at least can get a truck loan, even if at rates above the low teens, says Manero.
The worrisome aspect is that a high volume of subprime borrowing is often a sign that "everything's overheating a little bit," he says. Manero sees the balloon in lending as presaging an imminent pop.
"We'll have another cyclical downturn in 2016-'17," he says. Though the Federal Reserve is talking about raising interest rates on money it lends to banks, which indirectly affects consumer rates, good-credit borrowers should see little change, he says, maybe "a quarter-point or so."
Go Capital got in business two years ago to serve the subprime borrower, says Chet Zeken, director of sales, with the vast majority of its deals structured as lease-purchases. The Irvine, Calif.-based outfit has grown from three employees to 70. Zeken notes partnerships with fleets and dealers as nationwide referral sources for borrowers rejected by other lenders.
He says the only customer Go Capital won't finance is one "who's in the middle of a bankruptcy or who's had a repo. Other than that, the customer will be automatically approved for financing." Zeken declines to specify the current loan rates.
Under subprime lease-purchase options, if you have to abandon the business, you often do so with no liability for payments. Still, you've essentially rented the truck with high payments and paid for maintenance, says South Carolina-based owner-operator Steve Reichard, leased with United Van Lines.
"It feels bad when that happens to you," and you're left with no ability to capitalize on any value that may be left in the equipment to put toward your next purchase, Reichard says.
But a lease-purchase is often the only option for a buyer with a shaky credit history and little to no down payment. It's an option that's much more common among leased owner-operators such as Reichard than among true independents with their own authority. About half the time, these deals are struck with the leasing carrier's arm, according to Overdrive's survey.
How common are lease-purchases?
Percentages above indicate the lease-purchase choice's share among all reports from owners on the nature of their last equipment purchase or lease.
Working with a carrier-affiliated leasing company to ink the deal has both positives and drawbacks. On the one hand, if the carrier truly wants you to succeed, it's got some incentive to provide more miles and better pay. However, a lease-purchase with a carrier-affiliated company can represent a commitment to stay with that carrier through the lease term. While some carriers will allow the owner-operator to take the truck elsewhere, many will not.
Vacaville, Calif.-based Travis Fly, also leased to United Van Lines, runs in a 2009 Kenworth T660 with a 485-hp Cummins ISX. It was lease-purchased with a $10,000 optional balloon payment at the end of three-and-a-half years of about $2,000 monthly payments. By the end of the lease-purchase, he'll have about $94,000 into the T660, not counting maintenance expenses.
Compare that figure to the NADA average retail price for a 2011 today – about $65,000. With a robust 20 percent down payment of about $13,000, $52,000 financed by a good-credit borrower over a three-and-a-half-year term at 5.5 percent amounts to about $57,500 paid, or a $70,500 total overall purchase. That's more than $20,000 less than what Fly ultimately will pay for a truck that's two years older.
The comparison shows not only the benefit of good credit, but also the change in the used-truck market with model years after 2010. Fly says when he entered the lease deal for the 2009 T660, the market value he was best able to determine was $85,000.
All the same, "It's almost paid off," he adds, with only about 390,000 miles on it. "I'm probably going to keep it."
If so, he'll join the fourth of all lease-purchasing owner-operator respondents to Overdrive's survey who completed the lease to proceed to full ownership. As of now, he's part of the half that at least intend to, providing maintenance issues don't rear their ugly head. He's seen no real problems from the emissions system on the Cummins-powered unit over the two years he's had it.
MORE: