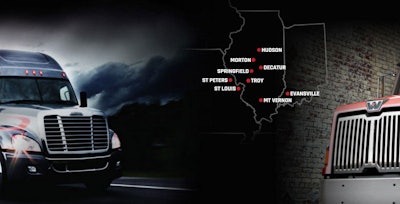 Illinois-headquartered Truck Centers Inc. launched a new website for their family-owned network of Freightliner and Western Star truck dealerships. The new portal has been an extensive undertaking with the Dealer Spike web development firm to broaden their dealer resource tools to offer solutions for the heavy truck industry.
The new TruckCentersInc.com site is the crown jewel in the Dealer Spike truck portfolio, Truck Centers says, following many hours working together to customize features to accommodate the diverse products and services offered at the expansive TCI network.
Those include sales resources — users can easily search new and pre-owned truck inventory as well as options to compare vehicles, print brochures, obtain trade quotes and determine financing options. Parts and service resource include online parts ordered, service appointment scheduling, credit account applications and more.
TCI's in-house DRIVEN magazine archives are also accessible. Business partners and potential employees can obtain additional company information, review job opportunities, training availability, and access an robust events calendar.
"We are excited to roll out our new website after months of ongoing development and testing," said Michelle Petroff, Truck Centers marketing manager. "This website is cutting-edge with robust functionality and design but is extremely easy to navigate and offers a user-friendly interface. We worked hard to create a portal that offers visitors all of the information they are seeking but in an intuitive, modern format."
Visit the new site, optimized for both desktop and mobile devices, for more.