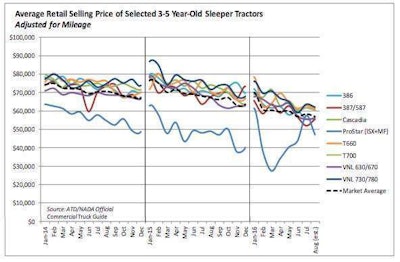 Among the used truck models three to five years of age, the Freightliner Cascadia, Kenworth T660, and Volvo VNL64T 730/780 all falling into a range between $61,000 – $63,500 in August, according to data released this week by J.D. Power & Associates. The International ProStar, meanwhile, saw a boost.
"The International ProStar appears to have taken a huge leap upward, primarily due to the inclusion of a number of 2014's, after a few months of no sales of that model year," says J.D. Power's Chris Visser, who added ISX -equipped ProStars of model year 2014 brought money comparable to the market average in July.
The wholesale side of the used market saw pricing fall.
According to J.D. Power data, the average wholesale price of model year 2011 trucks slid 41 percent ($4,514) from July, settling at $27,400. Trucks a year newer fell on average $2,261 (6.6 percent) to $32,000. Trucks of 2013 vintage settled at $36,000 on average, down $1,773 (or 4.7 percent) from July.
"Looking at the year-to-date trend, depreciation in the auction lanes has generally leveled off since late spring," says Chris Visser, J.D. Power commercial vehicle senior analyst and product manager. "Since January, 2013 model year trucks have lost about 19 percent of their value, trucks of model year 2012 have lost about 16 percent of their value, and trucks of model year 2011 have lost about 17 percent of their value."