The average loss value per cargo theft incident in the second quarter of 2015 dropped 27 percent from the first quarter of 2015 to $189,307, while the number of thefts fell 11 percent from the first quarter, according to the quarterly cargo theft trends report from FreightWatch International.
A total of 178 thefts occurred in the quarter, according to FreightWatch, which is also a 7 percent decrease from 2014's second quarter. Sixty of these incidents occurred in April, 66 in May and 52 in June.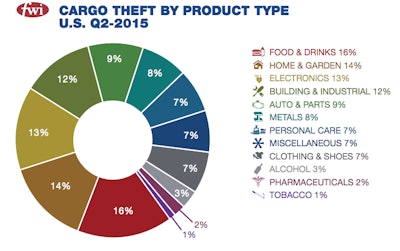 Food and drinks remained the most stolen product type in 2015's second quarter with 16 percent of total thefts during this period. Products primarily targeted in this category include produce and canned/dry goods.
Home and garden joined electronics as the second-most stolen product type, each representing 14 percent of total thefts during the second quarter. Electronics thefts were primarily televisions/displays or cellphones and accessories, while home and garden was primarily appliances.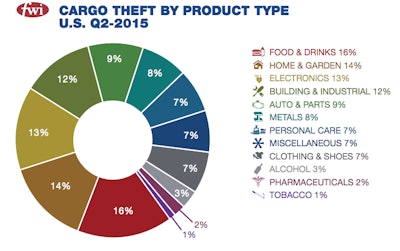 Building and industrial was the third-most stolen category, representing 12 percent of the total, with shingles being the most stolen item in the category.
Texas reported the most thefts during the second quarter with 18 percent of the total. California, with 17 percent, came in second, and Florida came in third, also with 17 percent.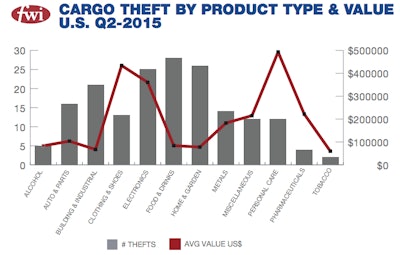 The most prevalent location for large-scale cargo thefts was unsecured parking, representing 90 percent of reported thefts.
Thefts involving theft of full truckload were most common during the quarter with 83 percent of all reported thefts.
The personal care product type had the highest average theft value in the quarter with $493,017, followed by clothing/shoes at $433,836. The third highest theft value belongs to electronics at $360,314.