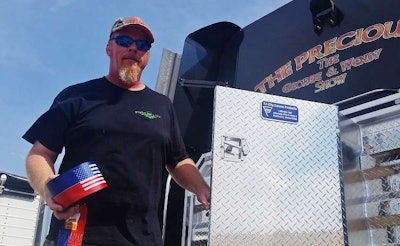 Our children are 11 years apart. Consequently, when our daughter started her senior year in high school, our son started first grade. For the past 23 years, we have had a kid starting school this time of year, because we are insane and had a baby when our daughter was 11. That's like being halfway through Dallas traffic on a Friday afternoon, then turning around to go back through the other way, just for poops and grins. It was crazy, but we made it.
You'd think we would relax some and enjoy the little bit of extra money not having to buy backpacks and new school clothes affords us, but as I mentioned before, we are insane.
The switch from van to flatbed just so happened to come at the same time a new school year starts, and let me assure you that I'd much rather have had to buy backpacks, pencils and new school clothes instead of a gabillion dollars' worth of straps, chains and headache racks. I'm fairly certain Tri-City Canvas will own our everlasting souls before George gets everything he deems necessary to run safe, secured loads. We've been there twice in the past week, and each time has destroyed the bank account, but you gotta spend it to make it, especially if you're going to do it right. It helps that they're super-nice people and a family-owned business, so there's that.
We showed up for the first load with brand spanking new everything, except the trailer. I rarely see George nervous. He's a very capable person, but he was a little nervous. It's been four years since he did a flatbed load, and it's definitely a whole different animal than swinging doors.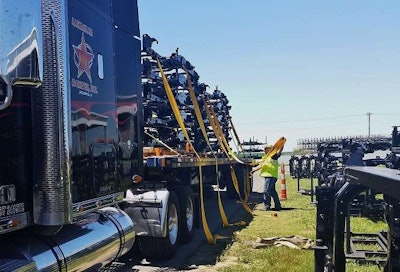 "I feel like the guy who shows up at the job site with new boots and a new tool belt."
I'm a girl, and I've never worked construction, so showing up with new shoes and a new purse is perfectly acceptable to me. "I don't get it. Why is that bad?"
"You can pick the new guy out when he shows up with clean, unused gear. He's the one who gets all the crap from the other guys."
"Oh poo. You're a grown man, no one is going to give you crap. We're not in high school, here."
We pulled up to the staging yard and got in line. They had chassis on the truck almost as soon as he set the brakes, and he was out of the cab in his spiffy clean safety vest and new hardhat, looking pretty fly, if you ask me.
"I'm going to take pictures! It's like your first day of school!"
"Do. Not. Get out and take pictures."
The look on his face was exactly that of the horror our son had when I jumped out of the car to take pictures of him walking into his first day of high school. And I realized then that this transition isn't as easy on him as he's made it look.
There's a whole new set of rules and regs, along with the general pride flatbedders take in securement of their loads. They watch each other, and comment on strap twists and edge protectors, and I have a whole lot to learn about it.
The first load went off beautifully, and I was amazed at how happy people were to see us when we arrived at 1 a.m. to be unloaded. There was no "go to the cage and wait until we find a hole to put you in." It was immediate joy, and once again they started unloading as soon as the brakes were set.
He was exhausted when we were done, and all he wanted to do was park and sleep. There was no circling the lot, like he usually does. He found the first spot available and hit it with a blindside back.
The CB lit up.
"Look at that skateboard hit a blindside back!"
He smiled, took off his boots, and fell into the bunk. Let the adventure begin.