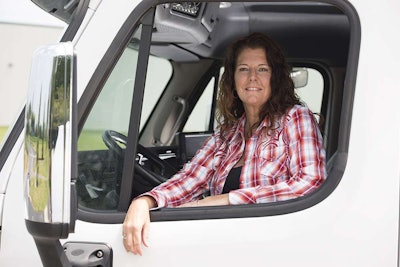 "You are the most beautiful trucker I've ever seen," said a bashful driver to Joanne Fatta while they were fueling at a truck stop. Fatta laughed and asked him when he had last seen a woman trucker. He couldn't recall.
Fatta says being able to play a small part in redefining the stereotype truck driver image, through coverage in trucking and mainstream media, is one reason she's so honored to have won Overdrive's Most Beautiful contest, now in its third year.
At 51, Fatta, of Lancaster, Pa., has worked into a respected position as a company driver and driver trainer with Sunrise Transport, which named her Driver of the Year 2013. Yet she's had to work through challenges in her career and personal life to get where she is.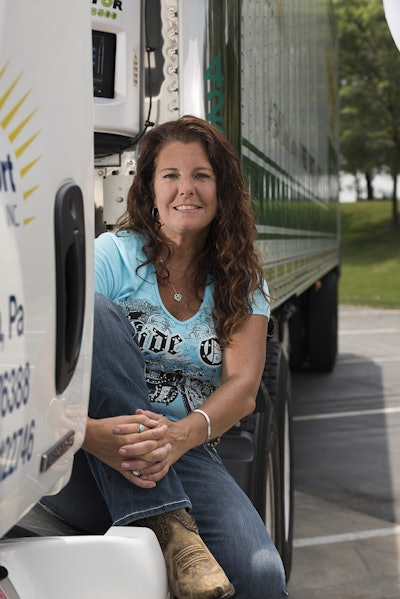 Just over 15 years ago, Fatta was a single mother working part time while staying home with her young daughter. She and a friend, looking for a change of pace from their jobs, learned about trucking at a career-development seminar and enrolled in driving school.
Fatta earned her commercial driver's license, went to work for Sunrise and has been trucking and training drivers ever since. Many of her former trainees have taken to social media to congratulate her on winning. "I think a lot of women – and some men! – say, 'If Joanne can do it, so can I!' " she says.
But Fatta's professional success didn't prepare her for what happened when she turned 50 and went in for a routine health checkup.
"I'm a very active person, always on the move, constantly doing stuff, always in a positive mood," she says. "That's why I never saw it coming."
After receiving a mammogram as part of the checkup, "They asked me to wait, and everyone else in the waiting room kept leaving while I was left sitting there," Fatta says. "Waiting. Finally, they called me back, and the radiologist had bad news. I should have known then that the hardest part is you have to wait for everything.
"That began a journey that included biopsy, surgery, lumpectomy and radiation. It makes you stronger in the long run, but it was a lonely, tough time. I took seven weeks off to go through the treatments and never thought I'd get my strength back. I had to rely on my parents to help, and then, good news. I finally got clear margins and was able to slowly get back to my life."
Since her award was announced, Fatta has been flooded with good wishes and an outpouring of positive media attention. One of the responses she's most proud of came from a young woman who saw her interviewed on local television.
"She decided to enroll in the trucking school where I teach and said she had never considered a career in trucking until she saw my interview," Fatta says.
Stories like that are good news for the industry. Likewise for Sunrise Transport, where Transportation Manager Ray Gonzalez says the Ephrata, Pa.-based company relies on Fatta's evaluation of new drivers. "Everyone who knows Fatta knows she is not a quitter," Gonzalez says. "She stands out for her conscientious work and great attitude."
Fatta will attend The Great American Trucking Show in Dallas, Aug. 27-29, where she will be presented with her award, receive a makeover for a photo shoot with a show truck, run in the Fit for the Road 5K and sign autographs at the Overdrive booth.
"I loved being there to represent the women in the industry," she says.
Navigating life inside and outside of trucking
Q: What do you like to do for fun?
A: I love to be with my German shepherd, Skye, whom I take camping and hiking. My boyfriend and I love the outdoors. When I'm not trucking, I'm mountain biking, trail riding, horseback riding, shooting or just hanging out in the woods or on the river or lake.
Q: How has the response been since your award was announced?
A: The guys now all call me Princess and Superstar, but they are very happy for me. Same thing with the company. It's been an amazing outpouring of congratulations. As far as the few trolls, I just ignore the negative comments. What else can you do?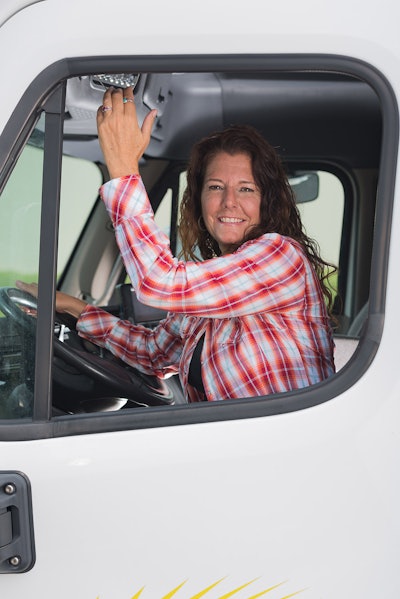 Q: How do feel about some of the ways fleets are trying to attract women into trucking?
A: I wouldn't look at myself as a woman in trucking – I'm just a trucker! I don't look for concessions. When you are in a male-dominated industry, you have to be tough. I figure if it's good for the guys, it's good for me.
Q: Have you had to struggle as a woman in this industry?
A: My job is my job, and I am proud of the struggle I've had to get this far. You have to make sacrifices to get what you want. I made the choice that I wanted to own my home, secure my finances and take care of my daughter. And trucking was a path toward financial independence.
Q: How hard was it to be a single mom and a trucker?
A: My daughter, Courtney, is now 21, and I think she understands now how tough it was for me. She was going into first grade when I first started driving, and it was rough. I would finish work and run to get my daughter from school to practice. But I was happy to do it.
Q: How has Sunrise Transport helped you along the way?
A: Luckily, I work for a great company that gets me home at night and on weekends. I couldn't have managed as a single mom without that good schedule. It's wonderful to work for a company that offers well-maintained equipment that I don't have to worry about. They've been incredibly supportive throughout this contest as well as when I went through my health concerns.
Q: What did you learn from your experience with cancer?
A: Be positive. Enjoy life. All the clichés are so true. You really do see life in a different way.