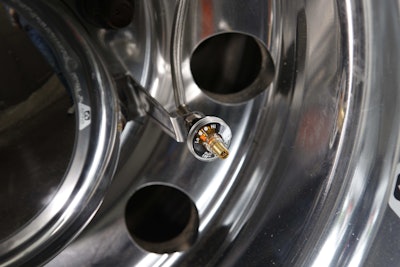 Tiro Technologies unveiled Friday its new tire pressure monitoring technology, TiroGage, at the Great American Trucking Show.
The multi-patented device provides an accurate, easy-to-read measurement without the need for additional electronics or vehicle modifications.
TiroGage can be adapted to any wheel or wheel position, while its construction allows it to withstand rugged conditions and heavy-duty environments.
"Tire pressure monitoring and maintenance is an ongoing issue for vehicle operators and fleet managers," said Gavin Chandler, CEO and chairman of Tiro Technologies. "Current tire pressure monitoring solutions are complex and/or expensive to procure, implement and maintain. TiroGage provides a very simple and reliable platform for TPM that is easy to implement and maintain for all wheels and axles."
TiroGage is available for $30-$50 per wheel. According to Tiro Technologies, recent studies indicate a properly installed tire pressure system can result in an annual savings of more than $1,600 for tractor-trailer operators who drive 100,000 miles per year.
For more information about TiroGage, visit their website here.