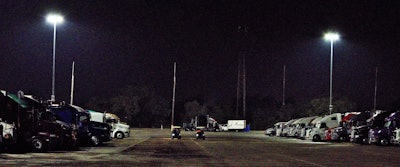 The stage was set early Saturday morning, Aug. 29, for the Fit for the Road 5K at the Great American Trucking Show, the image above showing the starting point ahead of the 7 a.m. start time for the run in the GATS truck parking lot at Fair Park.
Prior to the event, as always in Dallas in August, race organizers worried about the heat, said Stacy McCants, events vice president at Randall-Reilly, owner of the GATS show and publisher of Overdrive. Fortunately, as McCants duly noted at race start, organizers were able to order in a bit of a light rain shower from Mother Nature to keep cool the dozens of the participants along a race route that wound through the park's complex of museums, sporting venues and more.
Twenty-five-year trucker and current Landstar-leased owner-operator Gary Buchs, based in Bloomington, Ill., finished the race right alongside the event staff's 9-10-minute-mile pacer, overall a quicker average than is typical for him, he noted.
Doing races like the Fit for the Road 5K and marathons gives Buchs "a goal to push me to a level I wouldn't achieve otherwise," he said, adding that he felt it was "fantastic they are doing this," referring to the 5K.
Buchs "started running 4 years ago" and "lost 60 pounds through running. When I first started running, I was intimidated. Then I read an article that said: You're not gonna win. Have fun. You're probably going to walk some on every run so it's important to have fun." He's done a few marathons and plans to do the Quad Cities and Chicago marathons in Illinois this fall, running for a charity mission in Chicago.
Proceeds from the run were donated to the St. Christopher Truckers Development and Relief Fund, known among drivers as "the truckers' fund" for its work providing financial and other assistance to operators in medical emergencies.