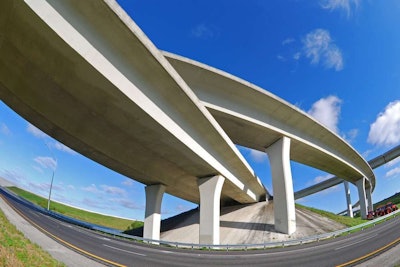 The public has until Oct. 13 to provide feedback on the Federal Highway Administration's Comprehensive Truck Size and Weight Limits Study technical report, released earlier this year.
The department will consider comments received for the report it will submit to Congress. On June 5, the Department of Transportation released the congressionally-mandated study's technical results.
That report ultimately yielded the conclusion that too little data exists on size and weight risks and infrastructure concerns to raise the current limits.
It examined differences in safety risks, infrastructure impacts,and effect on levels of enforcement between trucks within federal size and weight limits and those legally operating in excess of these limits. Among other issues, it compared and contrasted potential impacts of alternative configurations, including ones exceeding federal size and weight limits.
Peter Rogoff, DOT policy under secretary, discussed this report's shortcomings to the House transportation committee. For example, the "profound absence of truck weight data in crash reports" prevented researchers from knowing if the truck was fully loaded, overloaded or had weight unevenly distributed. The department was unable to overcome data weaknesses, despite efforts that included feedback from more than two years of public meetings, Rogoff stated.
"At this time the department believes that the current data limitations are so profound that the results cannot accurately be extrapolated to predict national impacts," Rogoff said. "As such, the department believes that no changes in the relevant truck size and weight laws and regulations should be considered until these data limitations are overcome," Rogoff said.
On June 25, the Senate appropriations committee said it was disappointed "with the finding that there is minimal data to inform Congress as it pursues a new highway reauthorization."
The DOT's 2000 Comprehensive Truck Size and Weight report also had discovered that insufficient data had inhibited efforts to conclusively evaluate effects of changing size and weight limits, according the committee report. Comments on the 2015 study Comprehensive Truck Size and Weight Limits Study may be submitted and viewed at Docket No. FHWA-2014-0035. Click here to make a comment.