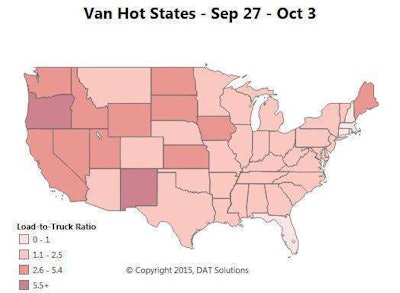 With the end of the third quarter of 2015 coming last week, a rush of freight movement prompted an 11 percent volume boost in van freight on DAT Load Boards. Truck capacity, meanwhile, tightened by 2.9 percent, yielding a demand increase of 14 percent nationally. DAT's national average load-to-truck ratio bumped up from from 1.7 to 2.0 van loads per truck last week after hovering around 1.7 since Overdrive's last update on the segment.
Shippers' rush to move inventory also resulted in some local outbound rate gains in major freight markets like Los Angeles, Dallas and Philadelphia.
Oregon continues to offer substantial load volume and high load-to-truck ratios, especially in the state's eastern and southern agricultural markets, with demand spilling into northern California. Albuquerque, N.M., also has high load availability for vans, coupled with a shortage of trucks, as shown in the Hot States Map above.
Pockets of demand and favorable ratios can also be found in western Kansas and southern Indiana.
As noted above, outbound van loads from Philadelphia have seen rate growth over the past week, though on average they're down 5 cents a mile since the last update. Coming into Philadelphia, however, you'll see a bit of a different picture with loads originating in Columbus, Ohio, particularly. The approximately 900-mile roundtrip, done in two days, will net you $1,000/day in revenue based on an average round-trip rate of $2.09 per mile seen in DAT RateView — that's $2.66 per mile outbound from Columbus but just $1.52 back.
If dock or other delays are likely to extend the run into a third day, breaking the trip up on the way back with a load from Philly to Pittsburgh ($2.31/mile average) and another from Pittsburgh to Columbus ($2.66) will add almost $500 to your total roundtrip revenue, which averages to $2.55 per loaded mile, and you'll get better utilization of your equipment on that third day. Examine the details below.