The Rear View Safety company announced the wide availability (list price: $499.95) of its MR688 driver fatigue monitoring system, already in fairly extensive use, the company says, in oil and gas fleets in Indonesia.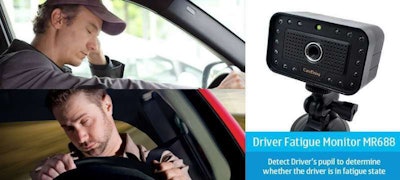 The product, a driver-facing camera, is designed to alert a driver to situations where driver fatigue and other dangers are likely to occur, detecting fatigue in the monitoring of the driver's eyes. Two sensitivity settings within the device allow users to adjust warning levels according to their preferences.
Installed, the system is a single camera placed on the dashboard of the vehicle in question with the lens facing the driver's face at all times. From the moment the ignition in the vehicle fires, the camera is on and monitoring the driver's face for signs of fatigue. When the device recognizes changes in the driver's face indicative of fatigue setting in, it plays an audible alert, helping to keep them attentive and focused on the road in front of them at all times.
The Rear View Safety company is no stranger to the world of safety-enhancing products for drivers and vehicles of all types, it says. Recently it introduced the GoVue backup camera and smartphone app for both iOS and Android operating systems. Once the smartphone and camera system are connected via a short-range Wi-Fi network, video information from the rear of the vehicle is transmitted to the smartphone in real time, eliminating the need for a primary monitor to be installed into the dashboard of the vehicle.