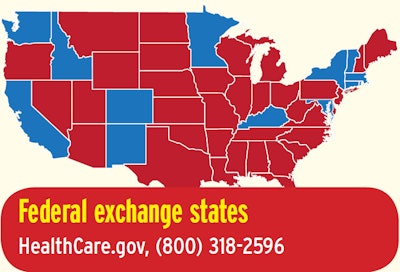 For most people, there's no choice for ACA coverage outside of the federal marketplace, but the 14 states listed below, and Hawaii, operate separate exchanges. For private assistance with determining eligibility for a subsidy and other questions, owner-operators can use the three trucking-focused private marketplaces listed at the bottom of the states list.
For those who qualify for a subsidy, the Owner-Operator Independent Drivers Association's exchange is not equipped to take operators through the entirety of the process, but it can help them make the determination and steer them in the right direction. Despite high estimates of those who might qualify for a subsidy, OOIDA representatives noted that few of its members actually do.
Heads-up, small fleet owners
2016 marks the first year businesses employing 50-99 employees will be required to offer health insurance to most employees or pay a fine of up to $2,000 a person. The so-called "employer mandate," originally set to go into effect in 2014 with the individual mandate, was delayed to 2015 for businesses with 100 or more employees, and to 2016 for smaller businesses.
For fleets with fewer than 50 employees, no requirement to offer insurance exists. As with other areas of tax law, owner-operators are not counted as employees.
A fact sheet from the U.S. Treasury Department describes the requirement for businesses with 50 or more employees: "To avoid a payment for failing to offer health coverage, employers need to offer coverage to … 95 percent [of employees] in 2016 and beyond."