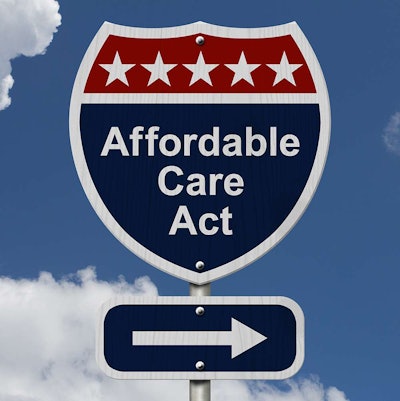 The Affordable Care Act's third annual open enrollment period starts Nov. 1 and runs through Jan. 31. To ensure that either new coverage or previously purchased plan changes begin Jan. 1, enrollment or changes must be complete by Dec. 15.
Otherwise, owner-operators who stay uninsured during 2016 will face income tax penalties that could average hundreds of dollars when tax is paid in 2017. The only good news is that some owner-operators who choose to enroll will be eligible for subsidies.
The biggest reason to opt in to health insurance if you're uncovered remains the possible need for catastrophic or expensive routine care. However, ACA provisions again boost penalties this coming year for the roughly third of Overdrive readers (a share that has not changed much since the law went into effect) who report remaining uncovered by health insurance.
Penalties for such operators will rise again for the 2016 tax year to 2.5 percent of modified adjusted gross income – income after expenses and some deductions. In 2014, the penalty was assessed at much lower levels – 1 percent.
As previously noted, owner-operator business services firm ATBS reports that the average penalty for clients who paid one with this year's taxes was $255. Extrapolating from that figure, penalties assessed in 2017 after the 2016 tax year might reach close to $800. Given the penalty is assessed as a share of family income, it "could sting a little bit if you have a spouse working as well," says Florida-based insurance broker Marc Ballard.
For those hoping that Obamacare will be overturned in court before then, there is only slight encouragement.
The June Supreme Court ruling in the King v. Burwell case upheld the status quo of ACA. As this story was going to press, however, the House of Representatives' own lawsuit alleging executive overreach – with use of nonappropriated federal funds to subsidize insurance purchases – achieved a critical milestone, ensuring it will at least get a court hearing.
Like many other insurance executives, Ballard believes the ACA's individual-mandate subsidized approach to insurance can't be sustained over the long term. He nonetheless contends that, for the time being, exchange-purchased insurance may be the best bet for owner-operators to get covered today if they desire.
Ballard, who is partnered with the National Association of Independent Truckers on the Truckers Insurance Exchange effort, cites research he's done that suggests up to 40 percent of owner-operators may be "eligible for some level of subsidy" for insurance purchased on the exchanges. Many, he says, don't realize that.
There's some evidence that more owner-operators are heeding that message or at least realizing in some cases that the exchanges present a better deal. The percentage of operators covered by non-exchange plans has fallen by a few percentage points, and use of the exchanges has made up the difference, according to these results of recent polling:
Have you carried health insurance through most of this year?
The exchanges, however, remain a relatively infrequent path to health insurance among readers. About 15 percent of operators report having bought insurance there, while half of poll respondents report access to insurance through other sources. Use of spouses' plans has been a common route for many independents, as have employer plans for company drivers.
At a Great American Trucking Show briefing in late August, Ballard noted TIE's new "marketplace" website, which streamlines access for operators who need help navigating what can be complex choices on the exchanges.
"Whether they decide to enroll or not, it's good to have somebody" to run a variety of scenarios depending on plan selection and qualification for a subsidy, he says. "At least then you know you've made an informed decision."
Read more about the TIE exchange at this link.
Those changing plans, Ballard says, can do so before or after Dec. 15, even if they've set their plans to auto-renew.
Find more information about the federal, state and trucker-focused private exchanges at the link below.