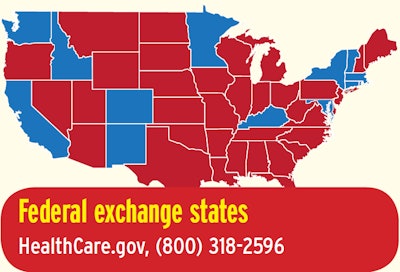 Round 4 of the Affordable Care Act's health-insurance exchanges' open enrollment period got under way last week, Nov. 1. Open enrollment will run through January 31, by which date new plans will need to be in place and current plan holders will need to make any necessary changes. The basics of the ACA, aka "Obamacare," remain much the same as they were during the 2015-'16 round of open enrollment. If you're in one of the red-shaded states above, you'll utilize the federal exchange at HealthCare.gov. If in a blue state, your state's health insurance exchange contact information is listed below, likewise a variety of owner-operator-focused private exchanges.
All of it, however, comes with a caveat. According to Marc Ballard, who assists with the National Association of Independent Truckers' private Truckers Insurance Exchange, "the biggest change this year is that we'll see a lot more people needing to shop plans."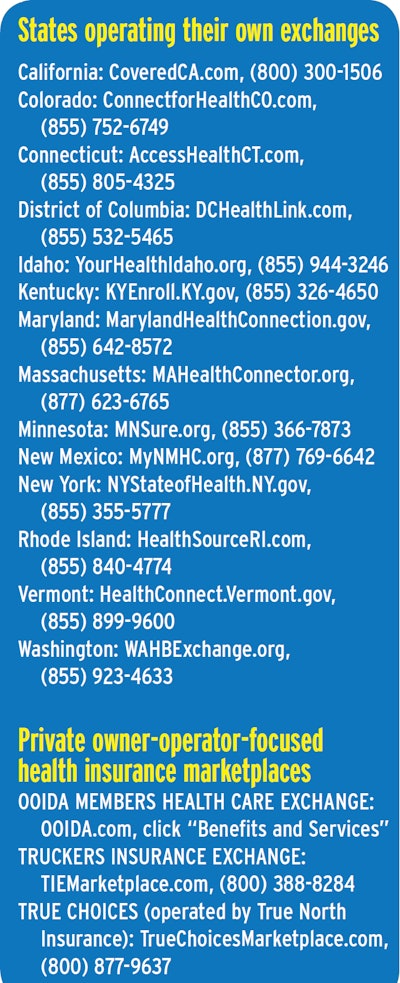 Considered across the entire universe of ACA plans purchased through the state and federal exchanges, Ballard says, "up to 2 million people will need to shop their plans due to the mass exodus of insurers" from the exchanges. Big names like UnitedHealth, Aetna, Humana and others have either pulled out entirely or reduced their offerings in the exchanges as a result of an assessment of profit/loss from providing insurance there, and those who've stayed have raised premiums for insureds, according to recent well-publicized reports.
The Kaiser Family Foundation has been collecting data on premium increases, using the second-lowest-priced silver plan in particular markets as a benchmark — ACA plans come at bronze, silver and gold levels of coverage. The KFF published the chart at this link showing percentage/real increases in such plans in major markets in every state for this round of enrollment. Price changes vary widely by market, generally, with very few states showing any sort of real decline in cost. For buyers who make a level of income sufficient to get a subsidy to cover part of the cost, no effect is expected to be seen, according to KFF. If your income is such that subsidies are out of reach, however, expect to pay more for the same plans this year.
That's not exactly a large number of owner-operators. Just 15 percent of readers reported being covered by ACA plans or having recently gotten covered in Overdrive's most recent polling, conducted in March of this year, with around a third of readers choosing to remain uninsured entirely.
Remaining uninsured next year will come with a tax penalty of 2.5 percent of income, with some caps on maximum penalties, unchanged from the prior year.
"Clearly there's a need for change or a different solution" to the problem of rising costs in health insurance and care, says Ballard. "We still don't see a whole lot of drivers gravitating toward ACA plans" through the Truckers Insurance Exchange or other sources.
As for the prospect for change, "we'll have to go through a fourth year of [enrollment] and see where things shake out at the end of January," he adds, "kind of push on through and see what the election brings, whether Hillary-care or Trump-care."
As it is, "insurers and doctors both are leaving" the plans. "And plan deductibles are still high. I talk to a lot of people who really don't feel like they have health insurance. They have to drive 30 miles and then they have to hit $2,500 to $5,000 before they satisfy a deductible. A lot of folks bought on [premium] price. Bronze doesn't really provide much immediate coverage until you hit a $5,000 deductible."
What's your health care/insurance situation been like these past few years? Call 530-408-6423 to weigh in with a voice message we'll include in a future podcast on the subject. If you're reading on a smartphone, tap the call button below to call.