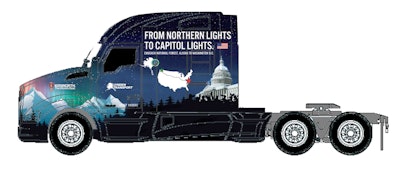 A specially-decaled Kenworth T680 will embark on a 3,000-plus mile journey this fall, transporting this year's U.S. Capitol Christmas Tree to 10 community celebrations on its way to the tree-lighting event in Washington, D.C.
The truck's design was unveiled this week in advance of the Oct. 27 tree-cutting near Seward, Alaska. The design features the Chugach Mountains and the U.S. Capitol beneath a starry sky with the words "From the Northern Lights to Capitol Lights."
The tree is a 74-foot Lutz spruce, which will be shipped from Anchorage by Totem Ocean Express to the Port of Tacoma. Lynden Transport driver John Schank, who has logged more than 5 million miles on the Dalton Highway between Fairbanks and Prudhoe Bay, Alaska, will then pilot the T680 from Seattle to the nation's Capitol. He will be pulling a trailer specially designed for the Capitol Christmas Tree.