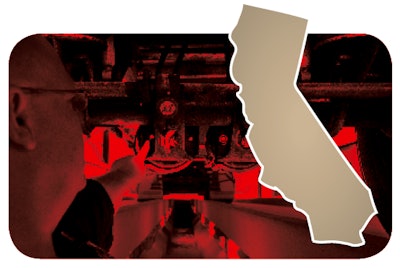 Among California truckers, average owner-operator net income exceeds that of company drivers by more than $17,000, according to a study released today.
The report, released by the California Trucking Association and the Southern California-based Inland Empire Economic Partnership nonprofit, uses 2013 owner-operator data and 2014 government data on company drivers.
The report comes at a time when allegations of the misclassification of independent contractors, particularly in port drayage operations, are on the rise as a result of union organizing efforts. CTA intermodal conference director Alex Cherin declined to comment on any import the study held for union/non-union issues.
Data were collected from 2,648 leased and fully independent owner-operators in port drayage, over-the-road and refrigerated segments. The respondents were domiciled in California.
Their reported $59,478 median net income is fairly close to average national net income figures from ATBS, the nation's largest trucking owner-operator financial services provider.
California company drivers earned $42,078 in 2014, according to the California Employment Development Department. That's $17,400 lower than the owner-operator average. The national company driver average last year was $39,520, according to the U.S. Bureau of Labor Statistics.
Digging further into the study, supply chain economist John Husing noted 2013 median net earnings of the highest 25 percent of owner-operators was $102,087. The next 25 percent earned a median $68,936, the third 25 percent $47,005. At the bottom, the last 25 percent earned $28,297.
Those numbers illustrate a surprising range in earnings that affords an strong "entrepreneurial opportunity," noted CTA Policy Director Chris Shimoda.
Husing said he believes the "study is a strong indication that independent owner-operators continue to thrive. Estimated to make up nearly 20 percent of all trucks on the road today, nearly 75 percent of independent owner operators are still earning more than company drivers."