The Department of Transportation's Office of Inspector General recently announced court activity in three trucking-related crime investigations. Here's a summary of what happened with each:
Two sentenced for role in CDL testing scheme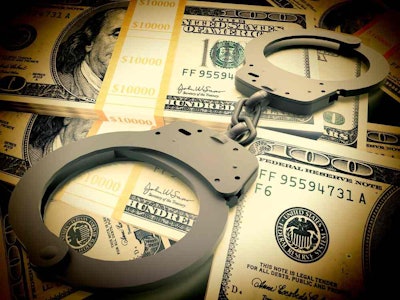 New York State Department of Motor Vehicles security guards LaToya Bourne and Inocente Gonzalez, were sentenced recently for their involvement in a Commercial Driver's License test-taking fraud scheme.
Bourne was sentenced to three years probation, while Gonzalez was sentenced to three years probation and 100 hours of community service.
After the DOT's investigation, it was discovered that fraudulent test-taking activities occurred at five known DMV test centers in the New York City area. Surveillance operations, including the use of remote observation posts and pole-cameras, identified the Bourne and Gonzalez, along with nine others, participating in the fraud scheme.
Conspiring CDL applicants paid facilitators between $1,800 and $2,500 in return for exam answers and escort assistance through DMV processes. Schemes included the use of pencils with miniaturized test answers, the use of a Bluetooth headset to relay test answers and the use of an external test-taker.
Ohio trucking company owners indicted for fraud
Raj Singh Bhangu and his mother, Sandy Gean Singh, owners of Knightrider Transportation, were indicted recently for fraud.
Bhangu was indicted for forgery and telecommunications fraud, and Singh was indicted for telecommunications fraud.
Knightrider Transportation was located in Columbus, Ohio. On Dec. 22, 2013, the Federal Motor Carrier Safety Administration placed the company out-of-service for failure to comply with safety fitness requirements, prohibiting the company from operating.
In January 2015, Bhangu allegedly created a document on false USDOT FMCSA letterhead misrepresenting Knightrider's authority to operate. The document was submitted by Singh and Banghu's request, according to the OIG investigation.
HHG moving company owner pleads guilty
Tasheen "Ty" R. Pickett recently pleaded guilty to conspiracy to transport stolen property related to a scheme to rob customers of their household goods, according to the DOT OIG.
Pickett owned and operated J and P Moving, a company that purported to provide moving services for people looking to ship their household goods from one location to another. J&P didn't have FMCSA authority to transport HHG, but they would acquire HHG moving jobs anyway, OIG stated.
The investigation revealed the company would travel to a location for a job, load the HHG into a moving truck, but would never return the goods to the rightful owner. In some instances, when the owner of the goods would contact J&P looking for their goods, Pickett and other J&P representatives would provide excuses for the failure to deliver, and would promise to deliver at a later date, but never would.
DOT OIG agents identified 34 victims of "hostage loads" taken by Pickett, and 20 of those victims got their possessions back.
Moving company owner pleads guilty to bait and switch scheme
Louis Massaro of Scottsdale, Ariz., and Pompano Beach, Fla., pleaded guilty in Massachusetts to conspiracy to commit wire fraud, money laundering, and failure to give up possession of HHG. He operated a fraud scheme that defrauded 52 victims of more than $112,000, according to the OIG.
Massaro owned and operated Moving and Storage Inc., which did business and Neighbors Moving & Storage. Although Massaro advertised NM&S as a mover of household goods, he operated as a broker of these services, taking jobs that would be passed on to other motor carriers, without disclosing that to the clients.
From approximately August 2010 to October 2012, Massaro and his co-conspirators operated a "bait-and-switch" operation. NM&S would provide low-ball estimates to customers for moving their HHG, and Massaro would tell customers that upon payment of a deposit and a binding fee, the price would be guaranteed. The customers were never told the move would be completed by another motor carrier, according to the OIG.
After customers made the initial payments, Massaro would obtain additional money by contacting customers under the premise of a quality assurance check after the 7-day cancellation period had passed, informing them that there were more items to move than originally quoted, and raising the quoted price. Customers could then choose between canceling the contract and losing their deposit fees, or paying the higher amount.
Additionally, when the company arrived for the move, the drivers would tell the customers that their goods weighed more than what was including in the binding quote, even in instances where the price had already been increased, which would increase the cost of the move by thousands of dollars. Drivers were also told not to deliver goods until all the money was collected.
If a customer refused to pay, they were told their possessions would be placed in a storage unit, and they would have to pay before getting it delivered in addition to having to pay more money for storage fees and re-delivery. If all of this wasn't paid, their goods would be sold at auction.