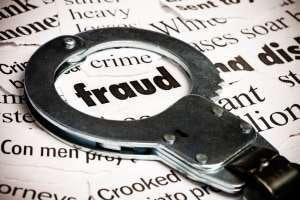 The Department of Transportation's Office of Inspector General recently announced court activity in six trucking-related crime investigations. Here's a summary of what happened with each:
Fugitive charged in HHG moving scheme captured after 33 months on the run
A Department of Transportation Office of Inspector General fugitive has been arrested after a 33-month flight from justice.
Noam Israeli was arrested Nov. 27, 2015, in Arlington, Wash., after police discovered Israeli was wanted in California by state authorities, DOT OIG and the FBI. He is being held in Snohomish County, Washington pending extradition to California to face charges for his alleged involvement in a household goods moving fraud scheme.
In March 2013, Israeli and seven others were indicted on charges of grand theft and conspiracy to commit theft, extortion, money laundering, insurance fraud and tax fraud. The DOT said investigators believe Israeli and his co-conspirators were involved in a scheme to lure customers into a moving contract by offering fake low estimates and later extorting the victims by fraudulently inflating the final bill by double or triple the estimate.
Israel was a foreman for ASAP Relocation, America's Best Movers, Champion Movers, Fast Moving Van Lines, Quick Quotes for Moving, and Encore Movers – all of which are Northern California-based moving companies.
According to court documents, between 2005 and 2012, Israeli and others go business for one of these businesses by offering low rates for packing services and supplies, then doubled or tripled the original prices. Customers who refused to pay the increased fees were threatened with the placement of their belongings in storage and incurring additional fees, the DOT OIG said.
Virginia chemical company pleads guilty to illegal transportation of hazardous waste
Virginia-based Chemsolv pleaded guilty Dec. 22 to illegal transportation and storage of hazardous waste.
The company operates a chemical blending and distribution facility in Roanoke. In 2012, Chemsolv contracted an environmental cleanup company after employees spilled several hundred gallons of ferric chloride. Approximately 4,500 pounds of ferric chloride mixture was vacuumed and put into five 275-gallon containers, but the mixture wasn't properly tested to determine if it exhibited hazardous characteristics, DOT OIG said.
The material was classified by Chemsolv employees as non-hazardous and transported to a waste disposal facility that wasn't permitted to handle hazmat.
EPA investigators also found a trailer that contained hazardous waste containers was on the Chemsolv property, which was a violation. Two other trailers containing hazardous waste had been transported off-site before the EPA investigation, DOT OIG said.
HHG moving company owner pleads guilty
Shedrick Giles, the owner of Fast Movers Delivery Service, pleaded guilty Dec. 3 to transportation of stolen property related to a household goods theft scheme involving multiple companies.
Following an investigation, Department of Transportation agents determined that Tasheen "Ty" R. Pickett owned and operated J&P Moving out of Sumter, S.C., a company that purportedly provided moving services for people looking to ship their household goods. According to the OIG, J&P never received authority from the Federal Motor Carrier Safety Administration to transport HHG.
After acquiring jobs, J&P and others dispatched trucks and movers to various locations, loaded the household goods into the trucks and then never returned the goods to the owners. When an owner would contact the movers for their goods, the companies would give excuses for the delivery failures or promise delivery at a later date, but the goods would never be delivered.
Giles' company was identified as a co-conspirator with Pickett and used the same scheme to obtain money and HHG from victims.
Florida school employee sentenced for role in CDL testing scheme
Natalia Dontsova was sentenced to 10 months in prison and a year of supervised release for her role in a fraudulent CDL testing scheme in Florida. She pleaded guilty to conspiracy to unlawfully produce Florida driver licenses and CDLs in October.
In November, the Florida Department of Highway Safety and Motor Vehicles issued letters to more than 2,000 CDL drivers who were identified as using third party testers and medical examiners that weren't tested properly. These drivers were given 60 days to retest or their CDLs would be revoked.
N.Y. man sentenced in widespread CDL testing scheme
Luc Desmangles was sentenced to 18 months in prison for his role in a widespread fraudulent CDL testing scheme in New York.
In October 2013, Desmangles and 10 others were charged with conspiracy to unlawfully produce identification documents in connection with the scheme. In July 2015, Desmangles and four others were found guilty of all charges, and the six others that were charged all pleaded guilty.
S.C. man sentenced in connection with third-party CDL testing
Thomas Lindsey was sentenced to two years' probation for making false statements related to the unauthorized administering of CDL tests in South Carolina.
Lindsey was approved by the state of South Carolina as a third party tester, solely for the administration of CDL testing to employees of the North Spartanburg Fire Department.
According to DOT OIG, he also administered the tests to drivers who were not employed by the fire department and didn't require all drivers to perform vehicle pre-trip inspections, basic controls or road tests, and utilized unapproved locations to conduct required testing.