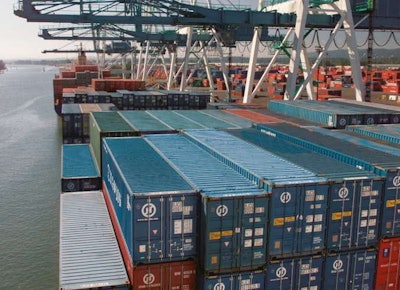 While the employment classification debate continues in Southern California ports, some truckers are mulling how changes in job status could affect responsibility of truck costs like insurance, truck payments, maintenance and more.
The 600 licensed motor carriers registered with the Los Angeles and Long Beach ports mostly use independent owner-operators. While they are paid for each container moved and are responsible for operational costs, the ports' implementation of Clean Truck Programs has affected use of this business model.
Last year, Marin Economic Consulting reported on driver-carrier relationships in the twin ports and Port of Oakland. Many carriers had "adopted a middle ground, purchasing trucks and leasing them to independent drivers," it stated.
Independent owner-operators own their trucks, while leased drivers lease them from or through a leased motor carrier. Leased drivers often have an exclusive relationship with their carrier, and companies generally exert more control over leased drivers than independent owner-operators.
Still, leased drivers may still be responsible for costs such as insurance, fuel and sometimes maintenance, the report noted.
In the past two years, the Teamsters union has come to represent drivers at a handful of Southern California drayage firms. The first was Toll Group, which already used employee drivers. This year, Shippers Transport Express converted from leased drivers to employee drivers, while a new company Eco Flow Transportation, opened with an employee-driver model.
Teamsters spokeswoman Barbara Maynard said when a driver-employee model is implemented, companies handle truck operational costs in varied ways. But more drayage firms are finding a slip seat operation productive, where drivers use trucks as they become available instead of being assigned one.
"Many port trucking companies have recently decided that they want to own (or lease from manufacturer or truck leasing company like Penske), because then it is much easier to slip seat trucks," Maynard said.