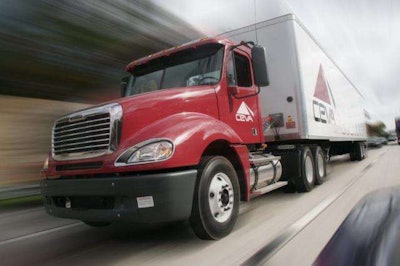 An Oregon appeals court has ruled that owner-operators leased to CEVA Freight are rightly classified as independent contractors according to state law. The state's labor department had asserted the truckers should have been classified as company employees and that CEVA must pay unemployment tax on their wages.
A three-judge panel for the Oregon Court of Appeals, however, ruled otherwise, saying that per Oregon law's four-part test for determining whether a contractor is an employee, the owner-operators were not company employees. The ruling was issued July 20.
Though some owner-operators for CEVA operate under their own authority, many operate under CEVA's authority, as is common industry practice. The owner-operators in question in the employment case either owned or leased their trucks and paid for their own business licenses, insurance, fuel, tires, maintenance, tools and uniforms, according to court documents.
Their trucks did have to be white and they had to split the costs with CEVA to have the carrier's logo decaled on the side. The owner-operators also had to wear CEVA uniforms, carrier CEVA identification and attend some CEVA-required driver meetings, among other standard requirements, like delivering loads within a certain window of time.
However, those stipulations weren't compelling enough to convince the court that the truckers were company employees. "Apart from those requirements, CEVA played little role in how owner-operators performed their work. Owner-operators provided and operated their own trucks and could hire their own drivers, establish their own work schedules, routes and delivery schedules, and load their vehicles according to their preferences. The direction-and-control test does not require that an independent contractor be free of all direction and control," the judges write in their ruling.
The Oregon Employment Department brought its complaint against CEVA following an audit of the carrier's 2009 and 2011 of the fleet's unemployment tax payments. An administrative law judge upheld the state labor department's findings, which CEVA challenged. The July 20 ruling by the appellate court reverses the lower judge's ruling.