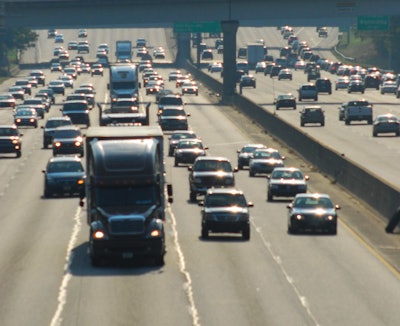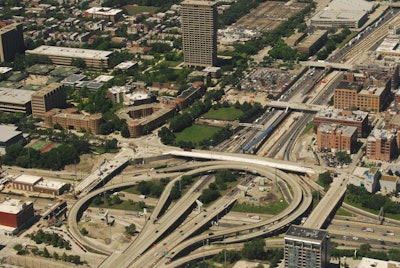 For the second straight year, Chicago's Circle Interchange (pictured) at I-290 and I-90/94 near the city's Loop downtown district was uprooted from its perennial spot at the the top of the most-congested freight bottleneck list published by the American Transportation Research Institute annually. This year, the city of Atlanta garnered the dubious distinction at No. 1 for the slowdowns at the Tom Moreland Interchange, a five-level stack interchange at the intersection of I-285 and I-85.
Known by local commuters as "Spaghetti Junction," it is not only the confluence of two highly traveled interstates, but also provides ramps to four secondary roadways.
Also notable on this year's list, available below: four of the top 10 truck chokepoints are located in Houston, Texas, with intersections on I-10, I-45 and I-610.
Atlanta: I-285 AT I-85 (NORTH)
Chicago: I-290 AT I-90/I-94
Fort Lee, N.J.: I-95 AT SR 4
Louisville, Ky.: I-65 AT I-64/I-71
Houston: I-610 AT US 290
Houston: I-10 AT I-45
Cincinnati, Ohio: I-71 AT I-75
Houston: I-45 AT US 59
Los Angeles: SR 60 AT SR 57
Houston: I-10 AT US 59
"With a robust economy comes increased demand for consumer goods, the lion's share of which is carried by truck," said Ed Crowell, Georgia Motor Trucking Association President and CEO. "ATRI's ranking allows states to better understand where targeted infrastructure improvements could keep the economy moving."
In the chart below, the range of average speed tracked at each intersection is ATRI's analysis is illustrated. That's just one of the several factors, including freight volumes, the Institute considers in its overall freight congestion index ranking methodology.
You can access their full report on the top 100 listed freight bottlenecks via this link.